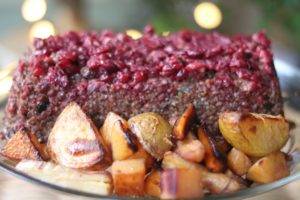 Cranberry Three Seeded Roast
Cranberry Three Seeded Roast #Vegan #Vegetarian #Paleo #Paleovegan
Cuisine:
Vegan, Vegetarian
Ingredients
4 shallots, chopped
3tbs coconut oil
4 garlic cloves, chopped
200g pearl barley
650ml stock
350ml white wine.
300g mushrooms
100g pumpkin seeds
100g sesame seeds
100g sunflower seeds
6 sundried tomatoes
1-inch ginger, grated
few sprigs of tarragon (28g)
200g cranberries
25g unrefined sugar
200ml water
Instructions
Pre-heat oven to gas mark 180 degrees Celsius.
In a large pot, sauté the shallots in the oil until translucent. Add the garlic cloves and mushrooms. Cook for a few minutes. Add the ginger.
Stir in the barley and coat in the oil. Add in the stock a ladle at a time. Stir regularly and simmer over a gentle heat until the liquid is absorbed. Continue adding the stock, until the barley is tender. This process will take about 45 minutes. Once done switch off the heat.
In a chopper, chop the seeds and the sundried tomatoes. Add to the pearl barley with the ginger and tarragon. Add salt and pepper to taste.
Add the remaining ingredients including the shallots.
Take a cake tin and grease with oil and line with greaseproof paper.
In a pan, dissolve the sugar in the water. Add the cranberries. Cook until the cranberries start to pop. Switch off the heat and layer at the bottom of the cake tin.
Fold in the seed barley mixture and smooth over to all sides. Cover with aluminum foil and place in the oven.
Roast the seeded roast in the oven for 30 minutes. Remove from the oven and set aside.
Serve warm
Notes
Nutritional Analysis
Good points
• No cholesterol
• High in manganese
• High in magnesium
• Very high in vitamin B6
Bad points
• Contains alcohol
Nutrition Information
Serving size:
397g
Calories:
573
Fat:
32.2g
Saturated fat:
9.4g
Carbohydrates:
50.3
Sugar:
8.7
Sodium:
409mg
Fiber:
11.3
Protein:
16.5g
Cholesterol:
0
EthiVegan by Edward Daniel
Author of "The Beginner's Guide to Veganism" to be published Summer 2017.   It is intended to help others as they grow and find their personal brand and assist with a new way.
What price? The planet. Ethical veganism; it's a life choice.
Edward Daniel | Servant to Humanity | Second Wave | Chef | Media Solicitor | Former Chair, The Vegan Society
Subscribe to the EthiVegan channel – click here
For more information about Edward, Meet the author – click here
FORTHCOMING
EthiVegan Day Retreat with Edward Daniel

Saturday 15 July 2017 – Awaken to the Fifth Dimension, Highbury, London with Edward Daniel – places limited to 8 – click here
Saturday 23 September 2017 – Awaken to the Fifth Dimension, Highbury, London with Edward Daniel – places limited to 8 – click here
Talks by Edward Daniel

Wednesday 26 July 2017 to Sunday 30 July 2017 – Queer Spirit Summer Festival, Thoulstone Park, Wiltshire
Thursday 10 August 2017 to Sunday 13 August 2017 – Raw Fest 2017, Sunninghill, Berkshire
Friday 26 August 2017 to Sunday 27 August 2017 – Berlin Vegan Festival, Germany
Saturday 16 September 2017 – London Viva!
Saturday 30 September 2017 – National Veg Food and Lifestyle Festival, Manchester
Sunday 19 November 2017 – Edinburgh Vegan Festival
Sunday 26 November 2017 – Brighton Vegan Festival
Saturday 17 March 2018 – London Viva!