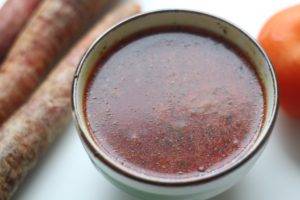 Recipe: Raw Coriander Purple Carrot and Beetroot Gazpacho
I made this easy to make starter conscious that I wanted to make it raw too. It actually taste remarkable light and a great accompaniment to any dinner party.
Cuisine:
#Raw #Vegan #Vegetarian
Ingredients
2 litres filtered water, boiled
2 purple carrots medium size
1 beetroot
1 onion
½ bunch of coriander leaves
1 fresh turmeric root (1 inch), finely grated
½ lime
50ml extra virgin olive oil
salt to taste
Instructions
Boil the filtered water and leave to one side.
Peel the skin off the carrots and beetroot. Place in a food processor with the onion and coriander. Whizz until course.
Place the carrot mixture into a blender. Add 250m of the filtered water and whizz finely.
Place the carrot mixture with grated turmeric and lime into a large serving bowl. Add the remaining filtered water. Mix well.
Drizzle in the olive oil.
Season to taste.
Serve at room temperature
Notes
Nutritional Analysis
Good points
• No cholesterol
• Low in sodium
• Very high in vitamin A
• High in vitamin C
Nutrition Information
Serving size:
309g
Calories:
72
Fat:
6g
Saturated fat:
0.8g
Trans fat:
0
Carbohydrates:
5.1g
Sugar:
2.3g
Sodium:
27mg
Fiber:
1.2g
Protein:
0.6g
Cholesterol:
0
EthiVegan by Edward Daniel
Author of "Essence: The Beginner's Guide to Veganism" to be published 2 December 2017.   It is intended to help others as they grow and find their personal brand and assist with a new way.
What price? The planet. Ethical veganism; it's a life choice.
Edward Daniel | Servant to Humanity | Second Wave | Chef | Media Solicitor | Former Chair, The Vegan Society
Subscribe to the EthiVegan Youtube channel – click here
For more information about Edward, Meet the author – click
To pre-order "Essence: The Beginner's Guide to Veganism" click here.