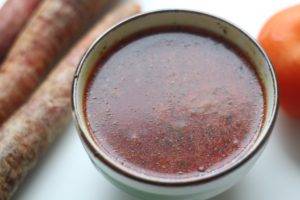 Recipe: Raw Coriander Purple Carrot and Beetroot Gazpacho
I made this easy to make starter conscious that I wanted to make it raw too. It actually taste remarkable light and a great accompaniment to any dinner party.
Cuisine:
#Raw #Vegan #Vegetarian
Ingredients
2 litres filtered water, boiled
2 purple carrots medium size
1 beetroot
1 onion
½ bunch of coriander leaves
1 fresh turmeric root (1 inch), finely grated
½ lime
50ml extra virgin olive oil
salt to taste
Instructions
Boil the filtered water and leave to one side.
Peel the skin off the carrots and beetroot. Place in a food processor with the onion and coriander. Whizz until course.
Place the carrot mixture into a blender. Add 250m of the filtered water and whizz finely.
Place the carrot mixture with grated turmeric and lime into a large serving bowl. Add the remaining filtered water. Mix well.
Drizzle in the olive oil.
Season to taste.
Serve at room temperature
Notes
Nutritional Analysis
Good points
• No cholesterol
• Low in sodium
• Very high in vitamin A
• High in vitamin C
Nutrition Information
Serving size:
309g
Calories:
72
Fat:
6g
Saturated fat:
0.8g
Trans fat:
0
Carbohydrates:
5.1g
Sugar:
2.3g
Sodium:
27mg
Fiber:
1.2g
Protein:
0.6g
Cholesterol:
0
EthiVegan by Edward Daniel
Author of "The Beginner's Guide to Veganism" to be published Summer 2017.   It is intended to help others as they grow and find their personal brand and assist with a new way.
What price? The planet. Ethical veganism; it's a life choice.
Edward Daniel | Servant to Humanity | Second Wave | Chef | Media Solicitor | Former Chair, The Vegan Society
Subscribe to the EthiVegan channel – click here
For more information about Edward, Meet the author – click here
FORTHCOMING
EthiVegan Day Retreat with Edward Daniel

Saturday 15 July 2017 – Awaken to the Fifth Dimension, Highbury, London with Edward Daniel – places limited to 8 – click here
Saturday 23 September 2017 – Awaken to the Fifth Dimension, Highbury, London with Edward Daniel – places limited to 8 – click here
Talks by Edward Daniel

Wednesday 26 July 2017 to Sunday 30 July 2017 – Queer Spirit Summer Festival, Thoulstone Park, Wiltshire
Thursday 10 August 2017 to Sunday 13 August 2017 – Raw Fest 2017, Sunninghill, Berkshire
Friday 26 August 2017 to Sunday 27 August 2017 – Berlin Vegan Festival, Germany
Saturday 16 September 2017 – London Viva!
Saturday 30 September 2017 – National Veg Food and Lifestyle Festival, Manchester
Sunday 19 November 2017 – Edinburgh Vegan Festival
Sunday 26 November 2017 – Brighton Vegan Festival
Saturday 17 March 2018 – London Viva!