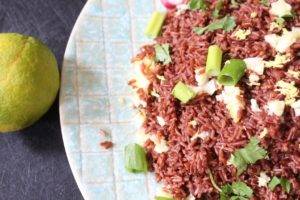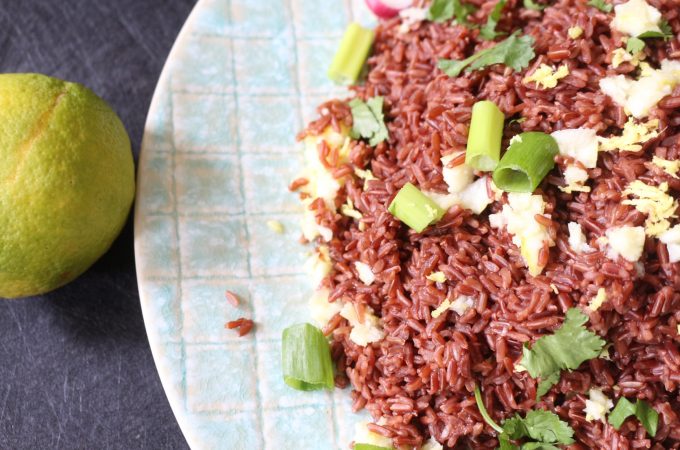 Red Camargue Rice Salad
Red Camargue Rice Salad has this nutty flavour to it once cooked. So this recipe came about because a couple of my friends, Eve and Dani were holding Limehouse Pride. It was its inauguration.
Recipe type:
Main, Salad, Side
Cuisine:
Vegan, Vegetarian
Ingredients
300g red camargue rice
½ lemon (whole – flesh and peel)
4tbs extra virgin olive oil
1 cinnamon stick, ground
½ inch ginger, grated
1 clove of garlic, minced
bunch of spring onions, chopped
few sprigs of coriander leaves, chopped finely
salt and pepper to taste
Instructions
Place the red camargue rice in a container full of filtered water into a steamer (I use about 750ml). Steam for 25 minutes. Place the rice into a large bowl, retaining the water. Leave to one side.
Place the lemon and oil in a blender and blend well. Remove and place in a separate bowl. Add the garlic and ginger, cinnamon. Mix well. Stir into the rice.
Toss in the spring onions and coriander leaves.
Season to taste and serve.
EthiVegan by Edward Daniel
Author of "Essence: The Beginner's Guide to Veganism" to be published 2 December 2017.   It is intended to help others as they grow and find their personal brand and assist with a new way.
What price? The planet. Ethical veganism; it's a life choice.
Edward Daniel | Servant to Humanity | Second Wave | Chef | Media Solicitor | Former Chair, The Vegan Society
Subscribe to the EthiVegan Youtube channel – click here
For more information about Edward, Meet the author – click
To pre-order "Essence: The Beginner's Guide to Veganism" click here.