Tofu Scramble
This simple, creative and thoroughly enjoyable recipe is part of my "Beginner's Survival Guide to series. I made this recently for breakfast for my non-vegan friends who were in awe with this fine substitute for eggs. Good food does not need to compromise.
Cuisine:
Vegan, Vegetarian
Ingredients
500g organic tofu
1tbs coconut oil
1tsp turmeric powder
1 medium vine tomato, chopped
2 spring onions, chopped
black pepper to taste
Instructions
Mash the tofu with a fork.
Heat the oil in a frying pan. Add the tofu and mix with salt and turmeric. Sauté for a couple of minutes.
Toss in the tomato and spring onions. Continuing cooking for three or four minutes.
Season with black pepper and serve warm.
Notes
Nutritional Analysis
Good points
• No cholesterol
• Very low in sodium
• Very high in calcium
• High in iron
• Very high in manganese
• High in magnesium
• High in phosphorus
• High in selenium
Bad points
• High in saturated fat
Nutrition Information
Serving size:
153g
Calories:
126
Fat:
8.8g
Saturated fat:
4g
Carbohydrates:
4g
Sugar:
1.2g
Sodium:
16mg
Fiber:
1.7f
Protein:
10.7g
Cholesterol:
0
EthiVegan by Edward Daniel
Author of "Essence: The Beginner's Guide to Veganism" to be published 2 December 2017.   It is intended to help others as they grow and find their personal brand and assist with a new way.
What price? The planet. Ethical veganism; it's a life choice.
Edward Daniel | Servant to Humanity | Second Wave | Chef | Media Solicitor | Former Chair, The Vegan Society
Subscribe to the EthiVegan Youtube channel – click here
For more information about Edward, Meet the author – click
To pre-order "Essence: The Beginner's Guide to Veganism" click here.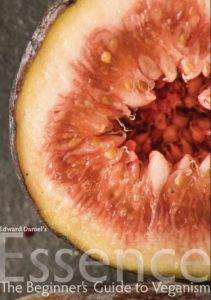 Related articles across the web