Tofu Scramble
This simple, creative and thoroughly enjoyable recipe is part of my "Beginner's Survival Guide to series. I made this recently for breakfast for my non-vegan friends who were in awe with this fine substitute for eggs. Good food does not need to compromise.
Cuisine:
Vegan, Vegetarian
Ingredients
500g organic tofu
1tbs coconut oil
1tsp turmeric powder
1 medium vine tomato, chopped
2 spring onions, chopped
black pepper to taste
Instructions
Mash the tofu with a fork.
Heat the oil in a frying pan. Add the tofu and mix with salt and turmeric. Sauté for a couple of minutes.
Toss in the tomato and spring onions. Continuing cooking for three or four minutes.
Season with black pepper and serve warm.
Notes
Nutritional Analysis
Good points
• No cholesterol
• Very low in sodium
• Very high in calcium
• High in iron
• Very high in manganese
• High in magnesium
• High in phosphorus
• High in selenium
Bad points
• High in saturated fat
Nutrition Information
Serving size:
153g
Calories:
126
Fat:
8.8g
Saturated fat:
4g
Carbohydrates:
4g
Sugar:
1.2g
Sodium:
16mg
Fiber:
1.7f
Protein:
10.7g
Cholesterol:
0
EthiVegan by Edward Daniel
Author of "The Beginner's Guide to Veganism" to be published Summer 2017.   It is intended to help others as they grow and find their personal brand and assist with a new way.
What price? The planet. Ethical veganism; it's a life choice.
Edward Daniel | Servant to Humanity | Second Wave | Chef | Media Solicitor | Former Chair, The Vegan Society
Subscribe to the EthiVegan channel – click here
For more information about Edward, Meet the author – click here
FORTHCOMING
EthiVegan Day Retreat with Edward Daniel

Saturday 15 July 2017 – Awaken to the Fifth Dimension, Highbury, London with Edward Daniel – places limited to 8 – click here
Saturday 23 September 2017 – Awaken to the Fifth Dimension, Highbury, London with Edward Daniel – places limited to 8 – click here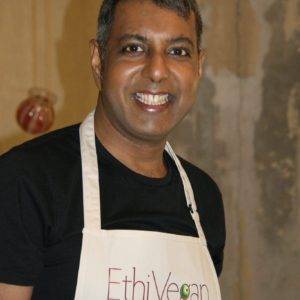 Related articles across the web