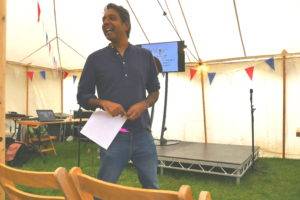 Hi Everyone
I need your help.
So, after years of deliberation, I am offering a new talk "Animal Rights: Where are we now and where do we need to get too".
To date I have been recitent about doing this talk because I'd rather let others take the baton.  As an introvert I'd prefer to be behind the parapet.
For the last five years I have created recipes as a Vegan Chef on my blog, EthiVegan and even have a recipe book out. I give talks too all over the U.K. and this year (2018) spoke both in Berlin and in Bali.  The talks are around "The Beginner's Guide to Veganism" and "Living in Alignment on a Vegan Diet".
Some of you will know that I am also a practising solicitor, having qualified 25 years ago and was Chair of The Vegan Society.
Anyway, the help I'd like is the type of questions you would like answering or things you would like me to cover  – I am currently researching and preparing material.
Kindly note that I am only qualified to advise on English and Welsh law and on European law as it applies to England and Wales.  Any questions on other jurisdiction, I consider from an academic perspective but not be my area of knowledge or something I could appropriately answer.
For where I am offering this next talk in 2019 (which will be my busiest year too date), I will compile separate posts – it looks like you will see me in London, Bristol, Leeds, Liverpool, Manchester, Cardiff and Birmingham.  As I self-fund attendance, and fit in attendance with working full time as a solicitor, recipe creating and writing my next book which will cover animal rights I do the best that I can, so please bear with me.  (Other U.K. and international engagements I am currently arranging).
So, in summary the question is:
What burning legal questions do you have or any thoughts on animal rights? What would you like to see happen and what can I do?
By working together we can help to effect change.
Love you all.
Edward x
P.S. You can follow me on Instagram at www.instagram.com/ethivegan, on Youtube at www.youtube.com/ethivegan and of course my website and recipe blog is www.ethivegan.com