Delicate sweet scented tangy Candied Orange and Lemon Peel slices soaked in citrus caramelised syrup.
Tempt your heart with something warm and fuzzy.
This dish will overthrow any belief that vegan food can't be super nourishing.
Make this:
When you want your very own healthy homemade candied peel to lift your desserts and breakfast
When you've got a recipe crying out for candied peel and you need a fixer
When you've got a traditional panforte recipe that's bursting for its unique candied peel to take it to the next level
Candied Orange and Lemon Peel was inspired when having looked at the ingredients of shop bought made with glucose fructose corn syrup, I realised I had to make my own version.
This is a slightly healthier alternative. This peel will keep for about couple of months on its own but my suggestion is to combine it and soak it in brandy in a mincemeat dish for the next year if you have any left over for the current year.
Candied Orange and Lemon Peel is vegan and paleo.
What equipment to use 
For this recipe, I suggest:
Stove
What to do next
Tag me on @ethiveganquantum on Instagram to show me what you've made and let me know you're happy for me to share.
My recipes are featured in vegan speciality publications: Nourished, Vegan Life, Plant Based and Vegan, Food and Living.
Order my first self-published book, "Essence: The Beginner's Guide to Veganism" part of the three-part Circle of Food series. My second book "Presence: The Ascending Vegan" – which explores how to maintain a vegan practice is out in 2027 – I have compiled all the chapters including recipes.
Going strong since 2013.
Love.
Edward x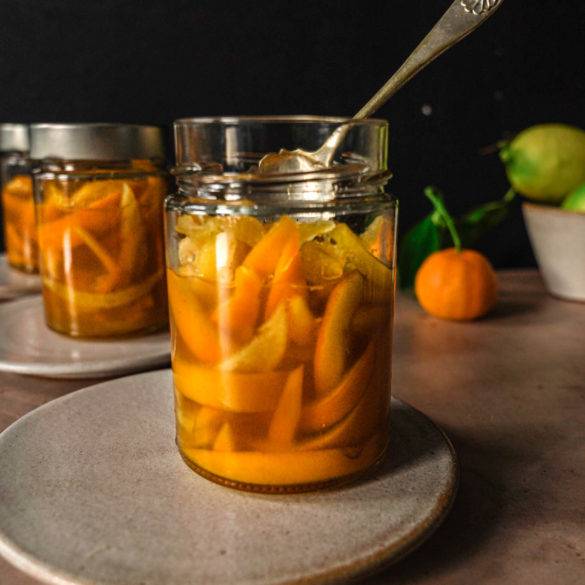 Ingredients
3 lemons

3 oranges

2 tbs salt

For the syrup

300g unrefined cane sugar

500ml water

100g unrefined cane sugar for end
Instructions
Slice the fruit in half and squeeze out the juice. (Drink the orange juice and leave the lemon juice to make home-made lemonade). Place the peel into a large bowl. Gently massage the salt into the peel. Leave to one side for at least 12 hours.
Discard any excess water. Remove any flesh and pith. Wash the peel in filtered water two or three times. Discard the water.
Make the syrup, in a large saucepan by dissolving the sugar with water. Add the peel. Bring to the boil. Cover and simmer on a very low heat for about an hour or until the peel is soft.
If the intention is to keep the peel do not boil down and add a further 100g sugar and place the peel with the syrup in sterilised glass jars. Alternatively, if wanting to use the peel boil down until the sugar crystalises or even better result dehydrate in a dehydrator for 12 hours. (I normally use the peel to make mincemeat or with mincemeat I want to soak in brandy until the next year. Have a look at my mince pie recipe on here).