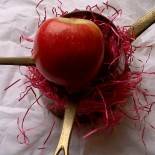 "Install some personality" into my blog?  I was told at a food bloggers course coordinated and run by Naimh Shields aka Eatlikeagirl (@eatlikeagirl).  And, it does get better.  Well here goes….
Apparently, it's the first course that has been run by the Guardian, here in London.  The course couldn't have come at a more opportune time, because for the last four months I have been flagging with how better to present my blog and yet, brimming with ideas…

Coming up with new recipes each week can be immense fun but what originally started out as, "Oh yes this should be easy," isn't necessarily so…  I am sorry to tell you folks out there peering through your computer or mobile screens.

Questions during the course were like: How often should I write?  What should I write about?  Who is my audience?  Why would anyone want to read about me?  What is going on in my crazy world and in my kitchen?

Confession: I really don't have a clue….. (Expletives have been deleted…. – for obvious reasons…).
What is personality?  Personality? – Well, isn't that defined as a bunch of qualities that make someone interesting or popular.  Interesting?  Me?  Now, doesn't the word "interesting" have connotations? – It could mean something you find that is good – or worse, it could mean something you find that is really really bad too – but you really don't want to offend the person you are talking too!  (Danger of veering off at a tangent…)

And does it really matter who my audience is and who I am writing for?  Well, actually no – primarily, I am writing for myself and expressing a voice and opinion.

The recipes – well, part of – well, actually, most of, the reasons I started writing this food blog was because I wasn't able to find the recipes I wanted.  All my life I have been cooking with red meat, white meat, eggs and milk – now, these ingredients have simply disappeared as I have adopted a vegan diet.  (I don't make my life easy…)

Plus, the recipes are also a timid excuse to just experiment with and concoct some half-decent (they haven't fledged to full decent yet until 1. They have been recipe tested; or 2. You have tried them out!).

One thing that Naimh Shields and her co-hosts have done is to inspire me immensely.  I feel inspired.  Inspired because – underlying everything: we are all human; we all have the same insecurities; the same aspirations and the same needs – perhaps, expressed in different ways – and this is what makes us all wonderfully unique but equally tantalising and mesmorising….

So, this is I, installing some personality into my blog…
EthiVegan by Edward Daniel
What future would you like to paint? What I say is that it is possible to lead a fulfilling life by going within, living in alignment, letting go of the past and thriving on a vegan diet.
If you want to uncover your purpose and live a more enriching life, why not purchase my book "Essence: The Beginner's Guide to Veganism"?
To order your copy of "Essence: The Beginner's Guide to Veganism" click here
Subscribe to my EthiVegan Youtube channel – click here
For more information about me, Meet the author – click
Thanks for viewing my recipes and interviews.
Love you all.
Edward x
Edward Daniel | Servant to Humanity | Second Wave | Chef | Media IT IP Solicitor | Author | Presenter | Former Chair, The Vegan Society