Papaya Strawberry Quinoa Bulgur Wheat Salad
This colourful summer salad is superb for serving on a warm day. It is relatively simple to make too! I add the papaya and strawberries just before serving, so that these fruits retain their texture. Papaya is a good source of Vitamin C and Potassium. Potassium is a vital component of cell and body fluids. For a gluten free alternative, just replace bulgar wheat, with the same amount of quinoa.
Recipe type:
Main, Starter
Cuisine:
Vegan, Vegetarian
Ingredients
120g quinoa
120g bulgur wheat
1 bunch of spring onions, sliced
100g strawberries, halved
½ papaya, skin taken off, deseeded and diced
Juice of 1 lemon
50g pumpkin seeds
Season to taste
Instructions
In a large pan of boiling water, add the quinoa and bulgur wheat and cook for about 12 minutes. Take off the heat. Drain off any excess liquid and allow to cool.
Soak the papaya and strawberries in the lemon juice.
Place the quinoa and bulgur wheat into a bowl and add pumpkin seeds and season to taste.
Just before serving tip in the papaya and strawberries with the lemon juice and add the spring onions.
Nutrition Information
Serving size:
⅙th
Calories:
189cal
Fat:
5g
Carbohydrates:
32g
Sugar:
6g
Sodium:
15mg
Protein:
5g
_____________________________________________________
EthiVegan by Edward Daniel
Thank you for taking the time to view my recipes, interviews and events pages.  I hope I inspire you to make these recipes and also inspire you to become very best versions of yourself.
You can follow me on Instagram here (@ethivegan) where I have quick one minute update videos and for interviews and cooking demonstrations you can subscribe to my Youtube channel here.  You can watch live cooking demonstrations by subscribing to my Facebook profile here (@ethivegan).
For more information about me – click here
See you soon.
Love.
Edward x
Edward Daniel | Vegan Chef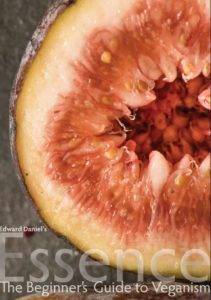 Related articles
A complete Guide on How to Grow Strawberries (by igardenplanting.com)