What makes its special is the pop of the pomegranates as you take a bite. The ground almonds add further texture to this dessert. It's simple to put together and tastes scrumptious. I made this dessert for a friend of mine's 50th birthday party.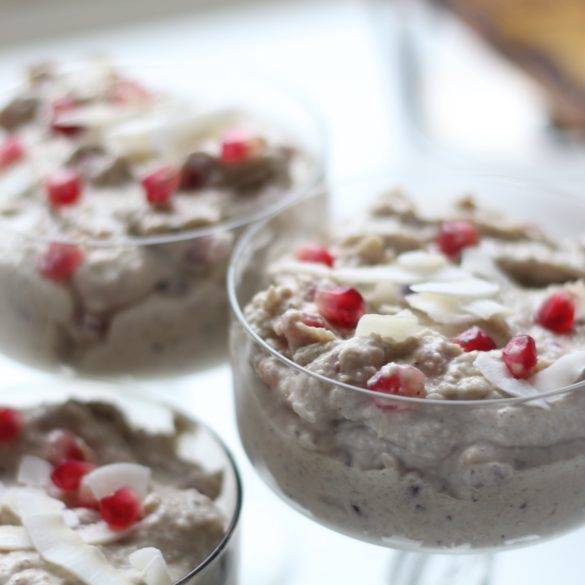 Ingredients
100g dates
250ml vegan cream (I use oat cream)
400ml vegetable yogurt (I use coconut)
¼ vanilla pod
150g ground almonds
1 pomegranate
25g coconut flakes
Instructions
Whizz the dates in a chopper until finely chopped.
Blend the dates with the cream, yogurt and vanilla pod in a blender.
Place the date mixture into a large bowl. Toss in the ground almonds and pomegranate seeds. Leave a few pomegranate seeds for garnishing.
Garnish with coconut flakes and remaining seeds.
Serve at room temperature.
Notes
By Edward Daniel, Vegan Chef and Former Chair of The Vegan Society. Contributor to Vegan Life Magazine, Plant Based Magazine, Vegan Food and Living Magazine and OK! Magazine. Speaker and cooking demonstrator at Vegan Life Life Festival London, Mind Body and Spirit Festival London, Veganes Sommerfest Berlin, and Bali Vegan Festival. Author of "Essence: The Beginner's Guide to Veganism".