Baked Aubergine stuffed with Peppers and Walnuts is another of my summertime favourites. Just for friends dropping by and quickly rustling together a few choice ingredients. I love the simplicity and elegance of this dish and how it all spills over.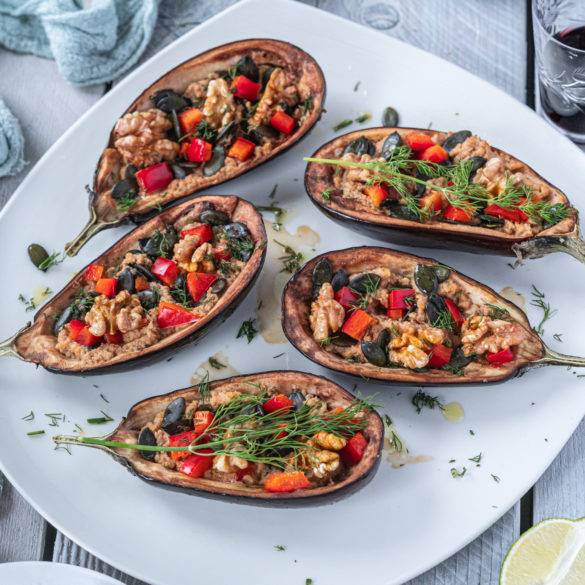 Ingredients
2 large aubergines (or 3 small aubergines)
5tbs olive oil
2 red peppers
50g pumpkin seeds
25g walnuts
½ lime, juice
Small bunch of dill, roughly chopped
Pinch of cayenne
Pinch of salt and black pepper
Instructions
Pre-heat the oven to gas mark 180 degrees Celsius or if you have a fan oven 160 degrees Celsius.
Cut the aubergines in two. Scoop out the flesh. Leave a gap with the skin.  Brush the skin with 2 tbs olive oil and place the flesh on a baking tray lined with baking parchment.
Place the aubergine flesh into a blender. Add in 3tbs of olive oil, the lime juice and pinch of cayenne, salt and black pepper. Blend well.
Remove and mix in the pumpkin seeds, walnuts, red pepper and dill.
Place the aubergine flesh mixture into the aubergine boats.
Bake aubergines in the oven for 30 mins.