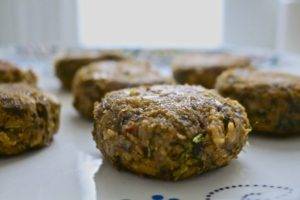 Beetroot Haricot Bean Burger
Beetroot Haricot Bean Burgers are just so delicious to eat. I made these for my book launch party. These make a delicious snack or main dish.
Ingredients
500g haricot beans
500g beetroot
3 shallots
2tsb extra virgin olive oil
bunch of dill
1tbs paprika
2tbs coriander powder
2tbs cumin powder
1tsp salt
3 cloves of garlic
1 inch ginger
150g breadcrumbs
Oil for frying
Instructions
Soak the beans in filtered water for a period of 24 hours.
Cook the beans in a pressure cooker for about 15 minutes. Drain and leave to one side.
Chop the shallots and gentle saute.
Once the beans have cooled down, place into a food processor and roughly chop.
Grate the beetroot and finely chop the dill.
Place beans into a large mixing bowl. Add the beetroot, dill and remaining ingredients.
Have a bowl to one side with lukewarm water to dip your hands into now and again.
Mix the ingredients if your hands and taking a small handful make into a round circle. Keep repeating till you use up the mixture. Keep refridgerated until ready to eat. This mixture will keep for about a day.
To heatup gently saute the bean burgers in oil unitl lightly browned on both sides
Serve on its own or in a bun
_____________________________________________________
EthiVegan by Edward Daniel
Thank you for taking the time to view my recipes, interviews and events pages.  I hope I inspire you to make these recipes and also inspire you to become very best versions of yourself.
You can follow me on Instagram here (@ethivegan) where I have quick one minute update videos and for interviews and cooking demonstrations you can subscribe to my Youtube channel here.  You can watch live cooking demonstrations by subscribing to my Facebook profile here (@ethivegan).
For more information about me – click here
See you soon.
Love.
Edward x