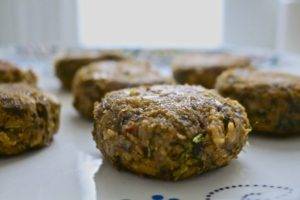 Beetroot Haricot Bean Burger
Beetroot Haricot Bean Burgers are just so delicious to eat. I made these for my book launch party. These make a delicious snack or main dish.
Ingredients
500g haricot beans
500g beetroot
3 shallots
2tsb extra virgin olive oil
bunch of dill
1tbs paprika
2tbs coriander powder
2tbs cumin powder
1tsp salt
3 cloves of garlic
1 inch ginger
150g breadcrumbs
Oil for frying
Instructions
Soak the beans in filtered water for a period of 24 hours.
Cook the beans in a pressure cooker for about 15 minutes. Drain and leave to one side.
Chop the shallots and gentle saute.
Once the beans have cooled down, place into a food processor and roughly chop.
Grate the beetroot and finely chop the dill.
Place beans into a large mixing bowl. Add the beetroot, dill and remaining ingredients.
Have a bowl to one side with lukewarm water to dip your hands into now and again.
Mix the ingredients if your hands and taking a small handful make into a round circle. Keep repeating till you use up the mixture. Keep refridgerated until ready to eat. This mixture will keep for about a day.
To heatup gently saute the bean burgers in oil unitl lightly browned on both sides
Serve on its own or in a bun
___________________________________________________________
EthiVegan by Edward Daniel
What future would you like to paint? What I say is that it is possible to lead a fulfilling life by going within, living in alignment, letting go of the past and thriving on a vegan diet.
If you want to uncover your purpose and live a more enriching life, why not purchase my book "Essence: The Beginner's Guide to Veganism"?
To order your copy of "Essence: The Beginner's Guide to Veganism" click here
Subscribe to my EthiVegan Youtube channel – click here
For more information about me, Meet the author – click
Thanks for viewing my recipes and interviews.
Love you all.
Edward x
Edward Daniel | Servant to Humanity | Second Wave | Chef | Media IT IP Solicitor | Author | Presenter | Former Chair, The Vegan Society