Fiery chilli flavoured creamy black beans with marjoram and oregano parcelled in a maize dumpling steamed in corn husks; Black Bean Tamales.
Scorch your tastebuds with sensations that will make you flutter. And. chew.
This dish will alter your beliefs that vegan food can't be fulfilling.
Make this:
When you're going on an expedition and traversing difficult terrain and need a little treat for your break
When you're punching the air after making a win at work and now needs a dish that'll have you celebrating
When the lads are coming over for games night and need a dish to blow their tongues off but without the fire
Black Bean Tamales was inspired when planning a trek to Snowdonia with a truther friend and looking a bright future.
Tamales is an iconic Mesoamerican dish that harks to Mayan civilisation and is a comprehensive dish on its own and eaten on its todd.  Tamales are a blend of corn dough and filling, wrapped in corn husk and steamed. Mexicans use tamales as portable food, with the corn husk wrapping maintaining the tamales freshness. It's eaten das breakfast or dinner.
I purchase my habanero chilli from a quaint Mexican supermarket near Warren Street in London, called Mestizo Market which can be found here.
Black Bean Tamales is vegan and gluten-free.
What to do next
Tag me on @ethiveganquantum on Instagram to show me what you've made and let me know you're happy for me to share.
My recipes are featured in vegan speciality publications: Nourished, Vegan Life, Plant Based and Vegan, Food and Living.
Order my first self-published book, "Essence: The Beginner's Guide to Veganism" part of the three-part Circle of Food series. My second book "Presence: The Ascending Vegan" – which explores how to maintain a vegan practice is out in 2027 – I have compiled all the chapters including recipes.
Going strong since 2013.
Love.
Edward x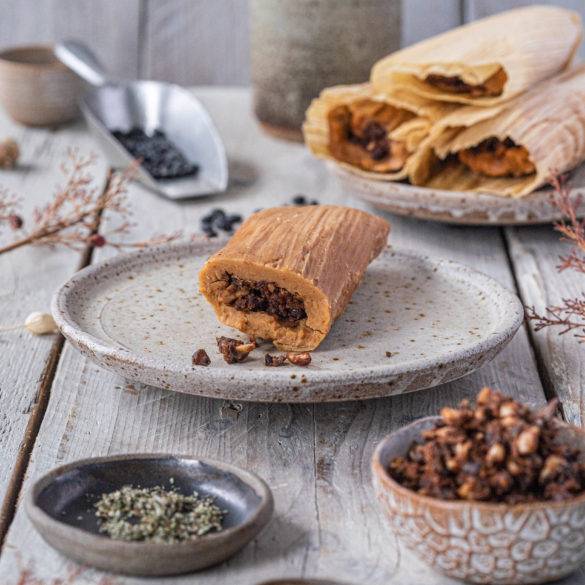 Ingredients
6 to 8 corn husks

150 black beans

75g peanuts, chopped

1 shallot

2tbs olive oil

1tbs marjoram

1tsb oregano

Pinch of salt

2 chipotles chilli's

1 Kashmir chilis

1 cascabel chilli's

Or 4 dried chilli's

300ml filtered water

240g maize flour

1tsp baking soda

Pinch of salt

480ml filtered water, hot

2tbs lemon juice

6tbs coconut oil, melted
Instructions
Soak the black beans in filtered water overnight.
Soak the corn husks in boiling filtered water in a separate pan. Cover and set aside.
Place the beans in a pressure cook with adequate water and pressure cook for 20 minutes. Set to one side.
Sauté the shallot in oil until translucent. Add in the chopped peanuts and toast for a few minutes and brown.
Transfer to a bowl and mix in the marjoram and oregano.
Deseed the chillis – use chillis and place in a saucepan. Bring to boil and simmer gently for 20 minutes. Blend the contents and weigh.
In a large mixing bowl, mix the maize flour, baking powder with the salt.
Add in the lemon juice and oil.
Pour a half of the chillis sauce and form into a crumble.
Pour in a little of the filtered water and knead. Continue pouring more water and use your hands to knead into a dough.
The dough should be soft and pliable and spreadable.
Gently fold the other half of the chillis sauce into the bean mixture with a spatula.
Take a tablespoon and spoon the dough onto the husk. The husk should be soft and pliable. Start towards the top wider part of the husk. Form a rectangular but ensure you have enough space at the top and bottom to fold over.
Spoon on the black filling into the centre. Just enough to ensure you can wrap the dough round as you fold the tamales over. Fold over and form into a parcel.
Place the tamales into a steamer and steam for 20 minutes.
Serve warm.