Ripe burst berry coulis on a bed of creamy coconut panna cotta with a hint of floral vanilla and minty thyme; Blackberry Panna Cotta.
Get all fruity with something solidly creamy. And, slouch.
This dish will burst your beliefs that vegan food can't be super yummy.
Make this:
When you've got a last-minute dinner party and need a quick and dirty dessert that will have your guest salivating at the seams
When you fancy al fresco dining on the decking in your garden with your beau/belle as you swoon into each other's eyes
When you've an active day with the cycle club and need a little treat to balance all those calories you've burnt off
Blackberry Panna Cotta was spurred following al fresco dining and people watching on Piazza Navona in Rome.
Panna cotta is a light creamy Italian dessert originating from the Piedmont region in Italy, made by gently simmering milk, sugar and gelatine. Gelatine is derived from animal products but this Blackberry Panna Cotta instead uses agar agar, a plant-based gelatine derived from seaweed. Coconut milk is also used, adding a velvety creamy texture to the Panna Cotta.
Burst blackberries add a tart intense deep flavour to the Panna Cotta. Try it.
Blackberry Panna Cotta is vegan and paleo.
What to do next
Tag me on @ethiveganquantum on Instagram to show me what you've made and let me know you're happy for me to share.
My recipes are featured in vegan speciality publications: Nourished, Vegan Life, Plant Based and Vegan, Food and Living.
Order my first self-published book, "Essence: The Beginner's Guide to Veganism" part of the three-part Circle of Food series. My second book "Presence: The Ascending Vegan" – which explores how to maintain a vegan practice is out in 2027 – I have compiled all the chapters including recipes.
Going strong since 2013.
Love.
Edward x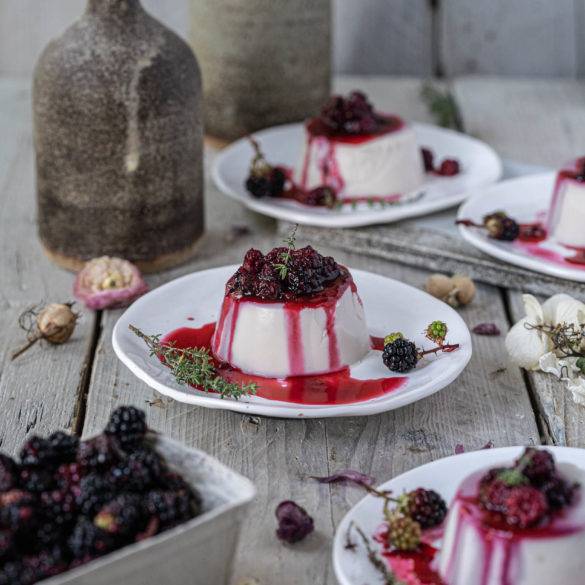 Ingredients
Blackberry Topping

150g blackberries

110g raw unrefined cane sugar

½ lemon

2 sprigs of thyme (optional)

Panna Cotta

800ml coconut milk

50g raw unrefined cane sugar

4tsp agar agar, ground

1 tsp vanilla extract
Instructions
Place blackberries in a large saucepan. Layer with sugar.
Squeeze out the juice of the lemon and add in the thyme, if used. Place lemon rind in a muslin cloth.
Turn the stove to low heat and keep stirring frequently. After about 10 minutes bring to the boil. Switch off the heat. Once cool squeeze out the muslin and discard.  Set to one side.
Ground the agar agar and sugar and place in a large saucepan with the coconut milk and vanilla extract. Bring to the boil stirring continuously and scrapping to the side.  Simmer for about 10 minutes.  Switch off the heat.
Wait to cool. Stir now and again. After about 10 minutes, place into ramekin dishes. Chill in the fridge for at least 1 hour.
Turn over the panna cotta and drizzle over the blackberries.
Serve.