Sometimes, I get things on the mark and this recipe has had my friends having second and third cupcakes – in one sitting… This recipe makes 23 to 24 cupcakes and is extremely indulgent and yet thoroughly pleasurable. Great if you are hosting afternoon tea…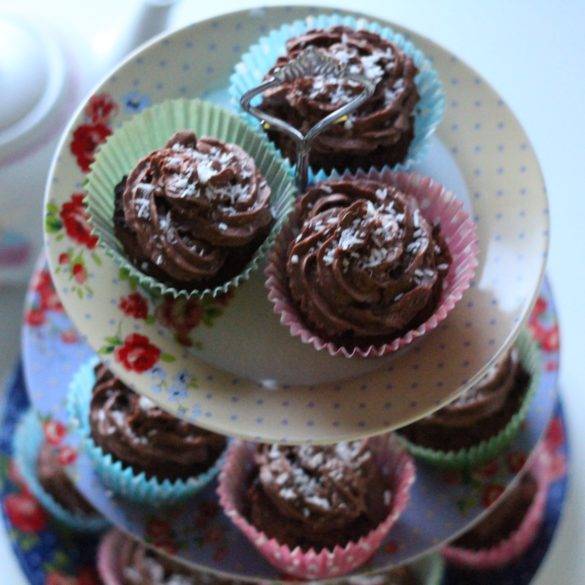 Ingredients
400ml oat milk
21g fresh yeast
½ tsp salt
300g self raising flour
150g coconut flour
60g carob powder
200ml extra virgin olive oil
For the icing
50g dairy free butter
50g vegetable fat shortening
330g icing sugar
65g carob powder
65g desiccated coconut
70ml oat milk
few drops of coconut extract
1tsp vanilla extract
Desiccated coconut for garnishing
Instructions
Gently heat the oat milk over a low heat until it is lukewarm. Place into a bowl with one tablespoon of the measured castor sugar, salt and the fresh yeast. Leave aside for 20 minutes.
Preheat oven to 180 degrees Celsius.
Line muffin tray with muffin cases.
In a mixer, place the remaining sugar, oil and flour. Beat until well combined.
Add the oak milk mixture, and continuing whizzing until well integrated and fluffy.
Spoon one tablespoon and a half of batter into each muffin case and gentle smooth over with the back of a teaspoon.
Bake the cupcakes in the oven for about 15 minutes.
Remove from the oven and allow the cupcakes to cool for about 30 minutes.
To make the icing, use a mixer to whip together the butter, vegetable fat, vanilla essence. Gradually, add the icing sugar and cocoa and beat well. Scrape the side and bottom of the bowl regularly. When all the sugar has been mixed in add the coconut and beat at high speed until light, fluffy and has a velvety consistency. Decorate the cupcakes and garnish with some coconut.