Carrot Chickpea Burgers is another of my go to recipes for when I have birthday parties. Colour, texture and taste meld into this dish that makes this gluten-free ideal for parties and for barbeques.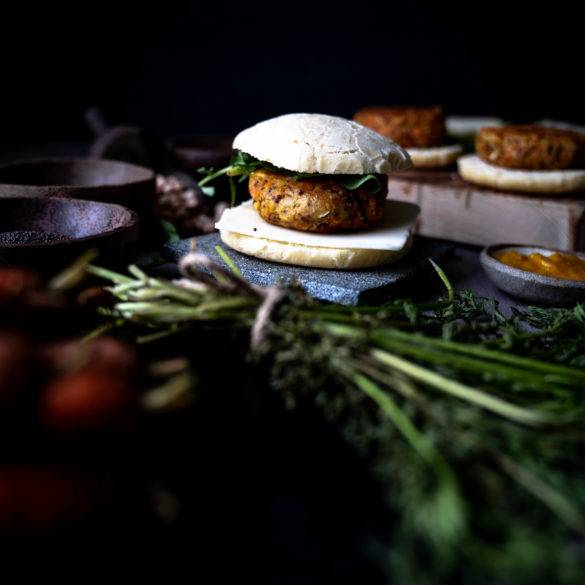 Ingredients
200g chickpeas
2tbs flaxseed, ground
5tbs filtered water
1 onion, chopped
2tsb olive oil
1tbs coriander powder
1tbs cumin seeds
½ tsp salt
2 cloves of garlic
½ inch ginger
½ lemon, juice
100g oats, ground
2 medium sized carrots, grated
1tbs mustard seeds
Oil for frying
Instructions
Soak the beans in filtered water for a period of overnight.
Cook the beans in a pressure cooker for about 25 minutes. Drain and leave to one side.
Mix the flaxseeds with water and set to one side.
Sauté the onions in oil until translucent.
Once the beans have cooled down, place into a food processor with the remaining ingredients except the carrots, oats, flaxseeds mixture and mustard seeds.
Place beans into a large mixing bowl. Add the carrots, oats, flaxseed and mixture and mustard seeds and knead.
Have a bowl to one side with lukewarm water to dip your hands into now and again.
Mix the ingredients if your hands and taking a small handful make into a round circle. Keep repeating till you use up the mixture. Keep refrigerated until ready to eat. This mixture will keep for about a day.
To heat up gently sauté the bean burgers in oil until lightly browned on both sides.
Serve on its own or in a bap.
Notes
By Edward Daniel, Vegan Chef and Former Chair of The Vegan Society. Contributor to Vegan Life Magazine, Plant Based Magazine, Vegan Food and Living Magazine and OK! Magazine. Speaker and cooking demonstrator at Vegan Life Life Festival London, Mind Body and Spirit Festival London, Veganes Sommerfest Berlin, and Bali Vegan Festival. Author of "Essence: The Beginner's Guide to Veganism".