Chestnut Bundt cake brings out the sweet taste of the chestnuts. I love how this simple dessert can be a show stopper for parties.  It is one of my more indulgent cakes.  It love too how the cake presents a marbled effect too once sliced into.
Amaranth seeds, I get from a non-profit small charitable store in Stoke Newington, London –  I like to support small outlets, where I can.  You can find the shop here
Blanched almonds, I purchase from a nifty Asian outlet in Hayes.  It has an online presence too which can be found here – I love it because it is reasonably priced and tends to be good quality stuff which I use.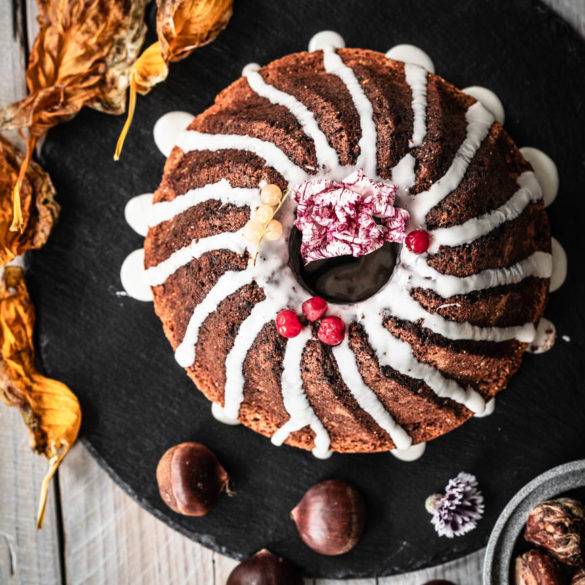 Ingredients
100g amaranth seeds
100g almonds, blanched ground
50g oats
25g flaxseeds
100g raw unrefined cane sugar
Pinch of salt
100g potato starch
2tsp bicarbonate of soda
200g chestnuts
200ml filtered water
30g prune puree
40g coconut oil
80g olive oil
½ lime, juice
Instructions
Pre-heat the oven to gas mark 180 degrees Celsius or if you have a fan oven 160 degrees Celsius.
Line a Bundt cake tin with olive oil and set to one side.
In a high-speed food processor grind down the amaranth seeds, almonds, oats, flaxseeds, sugar and salt. Place in a large mixing bowl with the potato starch.
Blend the chestnuts with the water in a blender – don't worry if there are small chunks as this adds to the texture. Add to the mixing bowl. Mix with a spatula.
Fold in the puree, and oils. Combine well.
Fold in the bicarbonate of soda and add the lime juice too.
Pour the mixture into the cake tin and bake for about 30 minutes until a dry skewer runs through.
Remove from heat and set to one side until cool.
Top with icing of your choice, if preferred.