French Onion Soup is one of my favourite traditional recipes – French onions from the Roscoff region is my preference but, sometimes I just have to do without and rely on local yellow onion produce. Yellow onions have a distinctive wholesome flavour, giving this dish its lush and silky taste. I make my own vegetable stock using potato, carrot, parsnip and celery in this dish. This dish can be paleo by omitting the potato in the stock and bread as the crouton – it is equally delicious.
What to do next
Tag me on @ethiveganquantum on Instagram to show me what you've made and let me know you're happy for me to share.
My recipes are featured in vegan speciality publications: Nourished, Vegan Life, Plant Based and Vegan, Food and Living.
Order my first self-published book, "Essence: The Beginner's Guide to Veganism" part of the three-part Circle of Food series. My second book "Presence: The Ascending Vegan" – which explores how to maintain a vegan practice is out in 2027 – I have compiled all the chapters including recipes.
Going strong since 2013.
Love.
Edward x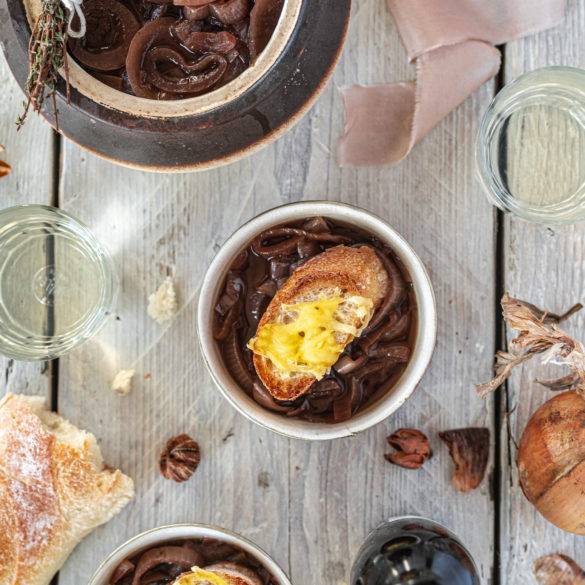 Ingredients
1kg onions
1tsp balsamic vinegar
1tsp raw unrefined sugar cane
1.2litre water
200ml white wine (or use red wine, if unavailable)
small bunch of thyme sprigs
1 medium potato, quartered
1 carrot, peeled and cut in half
1 parsnip, peeled and cut in half
2 sticks of celery
1 French baguette sliced
Some vegan cheese
1tbs sherry vinegar
Instructions
In a large pan, sauté the onions in oil over a medium heat for a couple of minutes.
Roughly cut a piece of parchment paper measured to cover the surface of the onions. Add the sugar and balsamic vinegar.  Damp in filtered water and lay on top of the onions. Stir occasionally, removing the parchment paper as needed. The onions should brown and caramelise.  Cook for about 45 minutes over a medium heat. When the parchment paper starts getting dry, resoak in water and return.
Discard the parchment paper. Bind the thyme with string and add the water, white wine, potato, carrot, parsnip and celery and bring to the boil. Reduce to heat and gently simmer for about 45 minutes, stirring as necessary.
Switch off the heat. Remove the stems of the thyme, potato, carrot, parsnip and celery and discard.
Cut the baguette into one-inch strips – as required. Grill one side and when it comes to the other side, grate some cheese on top and return to the grill.
When ready to serve the soup, add in the sherry vinegar, season to taste, ladle into bowls and layer the crouton on top.