Garam Marsala forms the basis of some great curries.  There is no single Garam Marsala recipe and each family has its own traditional ways of making it. For me, the basics that go into a Garam Marsala recipe are to have black cardamon, black pepper, bay leaves, coriander seeds, cumin seeds and cinnamon. Each brings its own fragrance. However, I add mace to this Punjabi version of Garam Marsala. Mace is a pungent aromatic spice take from the dry fleshing covering of nutmegs.  I shall stop there as I have said too much!  Enjoy this homegrown recipe with a twist.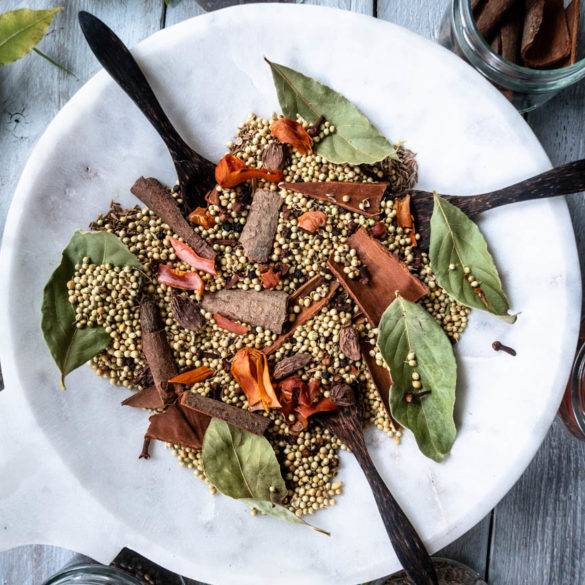 Ingredients
50g coriander seeds
50g cumin seeds
20g cinnamon
5g cloves of India
5g black cardamon
5g black pepper
2.5g mace (husk of nutmeg)
5 dry bay leaves
Instructions
Take a dry wok and place all the ingredients. Switch on a gentle heat and stirring constantly toast the spice. As the pan starts to warm, and is at a bearable temperature, scrunch up the bay leaves and break the cinnamon into smaller pieces.
Continue on a low to medium heat. About five to ten minutes in notice how the coriander seeds start to darken. As the seeds start to darken, notice the aromas wafting through. You will smell the oils of the spices releasing.
As the coriander seeds turn a dark golden orange, switch off the heat. Continuing stirring as the base of the pan will still be toasting the spices.
Use a spoon to scoop the spice into a blender. Whizz still fine.
Place the spices into a sterilised jar. Cover and seal and open as required.