Jerusalem Artichoke and Cavolo Nero Soup came about as I had a friend over Paul for lunch. He wanted something hearty and nourishing. I wanted to combine the subtle flavours of the Jerusalem artichokes, potatoes and cavolo nero, each is distinctive in its own right. I use lavender in this recipe because it enriches the smell. Perfect for a winter's day.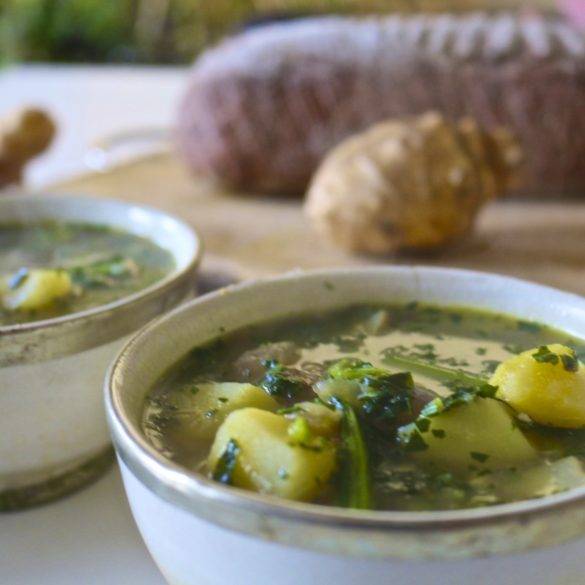 Ingredients
500g Jerusalem artichokes, diced
500g potatoes, diced
1 red onion, chopped
3tbs olive oil
1tsp lavender
2tbs miso stock
1tsp rice vinegar
2litres of filtered water
250g cavolo nero, finely chopped
salt and pepper to season
Instructions
Sauté the onion in oil in a large pan over a medium heat. Add the artichokes and potatoes. Allow the potatoes and artichokes to turn golden. This will take about 5 minutes.
Add the lavender, miso, vinegar and water. Bring to the boil and then cover and allow to simmer for about 10 minutes. Switch off the heat.
Stir in the cavolo nero.
Season to taste.
Serve with bread.