Creamy silk Lemon Mousse with a hint of tangy citrus cardamon, lemon zest and aromatic sweet saffron threads.
Grapple with a taste sensation and pert those lips.
What garnishing do you like with your Lemon Mousse?
This dish will throttle any belief that vegan food can't be this rich and lush.
Make this:
When you've got a last-minute dinner party and have a million things to get organised as you get the home ready
When you've run out of most goodies at home to give the kiddies a little treat and in your pantry, you have silken tofu and coconut milk
When you've got the ladies over for a little bolly, and dressing up is not an option without a little sweet that'll tickle your fancy
Lemon Mousse was inspired from when I was in the Amalfi coast with an ex-beau. We lounged on our balconies, sampling the local cuisine. A little light lemon mousse was on the menu that was simply heavenly.
Lemons originate from India, brought over by the Arabs and cultivated in Genoa, Italy. And, while their derogatory association with "loser" is a tad unfair. Their acidity and sturdy skins is what gives their unique flavour and elevates dishes to new found frenzied heights.
As a pale ovate yellow citrus fruit, they have this lush quality to them. Isn't it time to release the shackles of the past and welcome these fruits into our bosoms. And, even be grateful for their ready availability.
Lemon Mousse is vegan.
What equipment to use
For this recipe, I suggest:
High speed blender
What to do next
Tag me on @ethiveganquantum on Instagram to show me what you've made and let me know you're happy for me to share.
My recipes are featured in vegan speciality publications: Nourished, Vegan Life, Plant Based and Vegan, Food and Living.
Order my first self-published book, "Essence: The Beginner's Guide to Veganism" part of the three-part Circle of Food series. My second book "Presence: The Ascending Vegan" – which explores how to maintain a vegan practice is out in 2027 – I have compiled all the chapters including recipes.
Going strong since 2013.
Love.
Edward x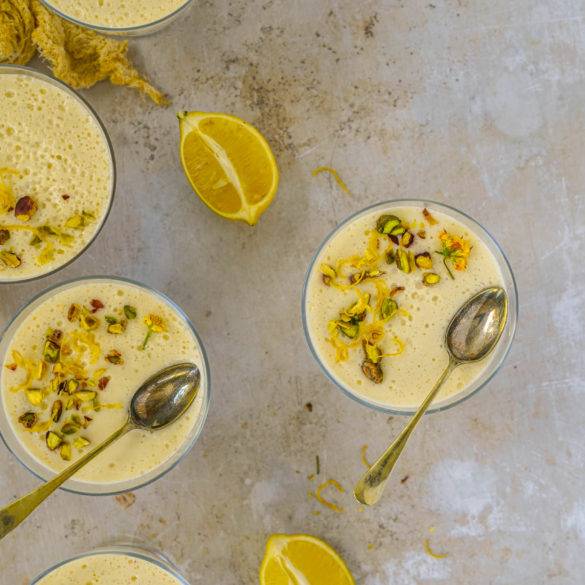 Ingredients
2 lemons, juice

½ lemon, zest

75g unrefined sugar cane

500g silken tofu

400ml coconut milk

2tbs corn starch

3 cardamon pods

Couple of drops of lemon essence (optional)

Pinch of saffron threads (about 10)

Pinch of salt

Garnishing

Pistachios
Instructions
Remove the seeds of the cardamon.
In a high-speed blender blend the saffron threads, corn starch with the coconut milk. Transfer to a non-stick pan. Slowly bring to the boil. Reduce and simmer for about 5 minutes. Cover and set to one side.
Place the remaining ingredients into the high-speed blender and once the coconut milk has cooled add in. Whizz until the mousse becomes airy. Pour the mousse into serving dishes.
Chill in the fridge for about an hour.
Serve garnished with chopped pistachios.