Mustard Garam Marsala Broccoli is one of those rich and yet subtle dishes.  I love how the broccoli is baked in mustard, garam marsala and yogurt, giving it that warming yet not overpowering feeling. It is also one of my quick and easy recipes.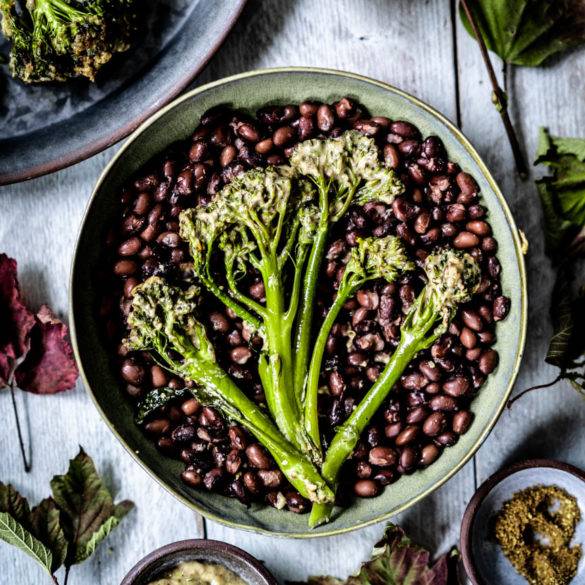 Ingredients
250g broccoli
4tbs olive oil
2tbs garam marsala (for recipe on how to make – see https://www.ethivegan.com/recipe-garam-marsala-vegan-glutenfree-paleo/)
1tsp wholegrain mustard
½ lemon, juice
150g vegan yogurt
Season to taste
Instructions
Preheat oven to gas mark 180 degrees Celsius or if you have a convention oven to 160 degrees Celsius.
Cut the broccoli into florets and place on a baking dish.
In a mixing bowl, mix together the remaining ingredients to make a marinade. Season to taste as necessary.
With a pastry brush baste the marinade over the broccoli.
Bake in the oven for 20 minutes.
Serve immediately with rice or beans.
Notes
By Edward Daniel, Vegan Chef and Former Chair of The Vegan Society. Contributor to Vegan Life Magazine, Plant Based Magazine, Vegan Food and Living Magazine and OK! Magazine. Speaker and cooking demonstrator at Vegan Life Life Festival London, Mind Body and Spirit Festival London, Veganes Sommerfest Berlin, and Bali Vegan Festival. Author of "Essence: The Beginner's Guide to Veganism".