Slowly glug down something smooth and sensual and get your taste buds exploding in pure ecstasy. And, simper.
Smooth creamy Pistachio with chewy succulent Mulberry with yoghurt and hemp milk to form a reinvigorating Lassi.
This dish will smash your belief that vegan food can't be easy to make.
Make this:
When it's blazing and you fancy a mocktail out in the garden while you're sunning yourself
When you've got a hot curry on the go and want something to cool you down as you bite into that third chilli
When you want an uplifting avo pick-me up as you wade through your admin
Pistachio and Mulberry Lassi was inspired when sipping cool refreshing lassi while lounging in roadside cafes in Karachi, yapping with family.
Lassi is a popular, refreshing Punjabi yogurt milkshake. It has a creamy texture and sweet-sour taste to it. Its origins are thought to be Mesopotamia over 5,0000 BC as sustenance of the Gods.  Originally, milk was fermented in clay crocks mixed with curd and sugar.
Pistachio and Mulberry Lassi is vegan.
Love.
Edward x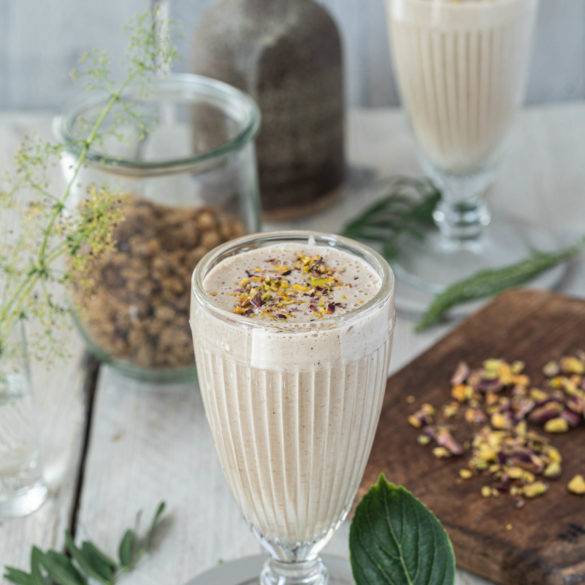 Ingredients
60g pistachios

100g mulberries

400ml vegan yoghurt

30g hemp hearts

50g raw unrefined cane sugar (optional)

250ml filtered water

Pinch of salt
Instructions
Soak the pistachios in filtered water for a couple of hours. Drain.
Place the hemp hearts in a high-speed blender, and whizz till fine. Add in the water. Continuing blending.
Add in the pistachios, mulberries and pinch of salt. Whizz. Taste and if necessary, add sugar. I don't add sugar because the lassi is meant to have that slightly bitter taste of yoghurt.
Chill and serve.