Textured intoxicating floral aromatic mouth-watering crushed pinkish peachy sweet caramelised Quince Jam aka Marmelo preserve.
Relish in divine heaven. And, melt into pure ecstasy.
This dish will burst your belief that vegan food can't taste so lovely.
Make this:
When you've spotted some fresh quince at your local farmer's market
When you've foraged some fresh quince in the nearby park you frequent
When you're shopping online for exotic fruit and fresh quince is listed as available
Quince Jam was inspired having visited a café in Cumbria where I had lashings of Quince Jam laced with cinnamon on buttered scones.
The origins of Marmelo (Quince Jam) date back to medieval Portugal. I love making homemade Quince Jam and quince at this time of year is perfectly seasonal and makes a good addition, to the Christmas festivities. For this dish, I both boil and bake the quince; the baking helps caramalise the quince's own sugars and enhances the flavour. I then re-simmer the quince further in sugar which adds a further caramalised texture. You may think it takes a lot of effort, but the results and taste speak for themselves.
Quince Jam is a vegan condiment and paleo, and Portuguese cuisine.
What equipment to use
For this recipe, I suggest:
Stove
Oven 
What to do next
Tag me on @ethiveganquantum on Instagram to show me what you've made and let me know you're happy for me to share.
My recipes are featured in vegan speciality publications: Nourished, Vegan Life, Plant Based and Vegan, Food and Living.
Order my first self-published book, "Essence: The Beginner's Guide to Veganism" part of the three-part Circle of Food series. My second book "Presence: The Ascending Vegan" – which explores how to maintain a vegan practice is out in 2027 – I have compiled all the chapters including recipes.
Going strong since 2013.
Love.
Edward x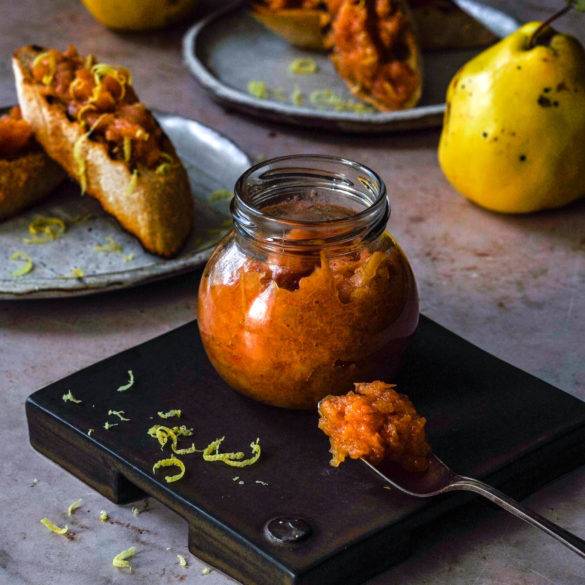 Ingredients
1.2kg quince

filtered water

400g unrefined raw cane sugar
Instructions
In a large non-stick pan, place boiling water and add the quince. Make sure that the water covers the quince. Cook under a medium heat for about an hour. Occasionally, turn over with some tongues. The quince should start to discolour.
Preheat the oven to gas mark 100 degrees.
Take an ovenproof dish and place baking paper. Remove the quince from the pan and lie on top of the baking paper. Do not discard the boiled water, which can be set aside.
Roast the quince in the oven for about two hours. The quinces will start to turn a rich reddish brown colour.
Remove the quince from the oven and allow to cool.
Once the quince is cool enough to handle, quarter and remove the seeds.
Top tip – other than removing the seeds, I do not core, as it adds to the grainy soft texture that I like with this jam.
Place the quince in a large non-stick pan with the sugar and measure in 200ml of the previously boiled water.
Cook the quince under a low medium heat for about an hour, stirring occasionally.
Top tip – I don't like my recipes to be too sugary and this jam is no exception. If you do prefer to add more sugar, do so for your own tastebuds.
Ensure that the jam jars to be used have been sterilised, washed and boiled in boiling water. Leave to one side covered.
In the absence of a jam funnel, use a slotted spoon to place the Marmelo in the jam jars. Seal and place in a dry dark cupboard for about a month to allow the flavours to really meld. Once opened refrigerate and consume.
Serve as required with slices of toast or bread.