Raw Cauliflower Buffalo Wings
Raw Cauliflower Buffalo Wings came about because I wanted to make a nutritious snack that didn't use white flour but instead was infused with a vegetable. Here I used zucchini and sunflower seeds to coat the cauliflower. I use a dehydrator for this recipe because it diffuses the flavours of the sundried tomatoes, oregano, garlic and chilli.
Cuisine:
Vegan, Raw, Paleo, Paleovegan
Ingredients
50g sunflower seeds
6 sundried tomatoes
1 whole cauliflower head
1 zucchini
1 shallot
1 tomato
2 garlic cloves
1 red chilli
1 tbs oregano, dried
1 tsp paprika
½ tsp salt
1tsp light soya sauce
Instructions
Soak the sunflower seeds and sundried tomatoes separately, in filtered water and set to one side.
Break the head of the cauliflower into small florets and set to one side.
Place the remaining ingredients into a food processor.
Drain the sunflower seeds and sundried tomatoes. (I normally reserve the liquid of the sundried tomatoes to make a nice gravy – there is a recipe for a cheats gravy on my EthiVegan website). Place with the remaining ingredients into a food process. Process until well blended.
Toss the blended mixture into a large mixing bowl and baste the marinade over the cauliflower florets.
On a dehydrator tray, place the cauliflower florets in a single layer with the marinade and dehydrate for 8 hours at 45 degrees Celsius before serving. Serve the leftover marinade separately.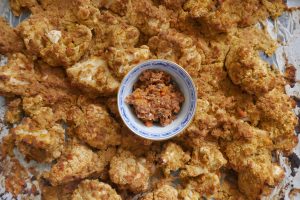 _____________________________________________________
EthiVegan by Edward Daniel
Thank you for taking the time to view my recipes, interviews and events pages.  I hope I inspire you to make these recipes and also inspire you to become very best versions of yourself.
You can follow me on Instagram here (@ethivegan) where I have quick one minute update videos and for interviews and cooking demonstrations you can subscribe to my Youtube channel here.  You can watch live cooking demonstrations by subscribing to my Facebook profile here (@ethivegan).
For more information about me – click here
See you soon.
Love.
Edward x
Edward Daniel | Vegan Chef