Raw Macadamia and Fig Truffles are a great way to start the day as a breakfast treat. I find adding freshly grated nutmeg always enhances dishes, where it is a requisite ingredient and l love it with these Raw Macadamia Fig Truffles.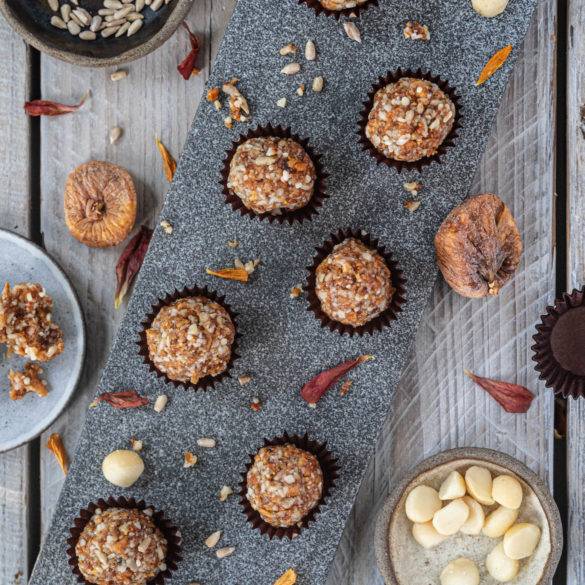 Ingredients
150g dried figs
60g-macadamia nuts
30g sunflower seeds
1.5tbs coconut oil.
¼ tsp nutmeg, freshly grated
Instructions
In a chopper, pulse the fig until it is fine. Remove and place in a mixing bowl.
Place the macadamia nuts and sunflower seeds and pulse to a course consistency. Add to the mixing bowl.
Add the nutmeg and coconut oil using your hands knead into a dough. Use both hands to break off the dough and gently shape into small round balls.
Serve immediately or place in the fridge and consume within the next few days.
Notes
By Edward Daniel, Vegan Chef and Former Chair of The Vegan Society. Contributor to Vegan Life Magazine, Plant Based Magazine, Vegan Food and Living Magazine and OK! Magazine. Speaker and cooking demonstrator at Vegan Life Life Festival London, Mind Body and Spirit Festival London, Veganes Sommerfest Berlin, and Bali Vegan Festival. Author of "Essence: The Beginner's Guide to Veganism".