Swoon as you pop this soft lush stimulant into your chops and wait as you come-up in pure ecstasy. And, get high.
Tangy peppery redcurrant atop a buttery-nutty hemp almond cocoa filling laid over a velvety cacao pecan chewy biscuit to form a Redcurrant Cheesecake.
This dish will shatter your belief that vegan food can't be scrumptious.
Makes this:
When you've got a smashing dinner party to prep and you're all jacked up to create a cracking dish
When you've got a private tete-a-tete meal planned with the other half, and you want to segue into a night of pure indulgent pleasure. (I didn't warn you)
When you've got the boss and her missus coming over for dinner and you want to want to impress
Redcurrant Cheesecake was inspired by picking redcurrants off bushes in an overflowing allotment on the edge of bustling country-town in Hampshire.
Pearl sized redcurrants are berries huddled on elongated stems on small bushes. With a healthy dose of vitamin C, the pulp tart flesh and edible seeds, they can be easily whizzed and provide a contrast to other delicate flavours. July and August tend to be when to pick them and can be found in local farmers markets and shops.  Though, there's nothing like growing your own, though do mulch if you decide to do so.
Hemp hearts are nature's perfectly balanced omega 3 to 6 fatty acid ratio. Buttery in texture and flavour they complement cocoa butter and almonds to make a lavish sophisticated cheesecake. Cocoa butter is the edible fat of the cocoa bean, and enhance dishes with its velvet creaminess, lifting that cocoa flavour and aroma it has has to new heightened guilty pleasures.
Hemp hearts, I get from Earthfare in Glastonbury, an eco-friendly grocer.  You can find Earthfare here
Redcurrant Cheesecake is vegan, raw, gluten-free and paleo.
What to do next
Tag me on @ethiveganquantum on Instagram to show me what you've made and let me know you're happy for me to share.
My recipes are featured in vegan speciality publications: Nourished, Vegan Life, Plant Based and Vegan, Food and Living.
Order my first self-published book, "Essence: The Beginner's Guide to Veganism" part of the three-part Circle of Food series. My second book "Presence: The Ascending Vegan" – which explores how to maintain a vegan practice is out in 2027 – I have compiled all the chapters including recipes.
Going strong since 2013.
Love.
Edward x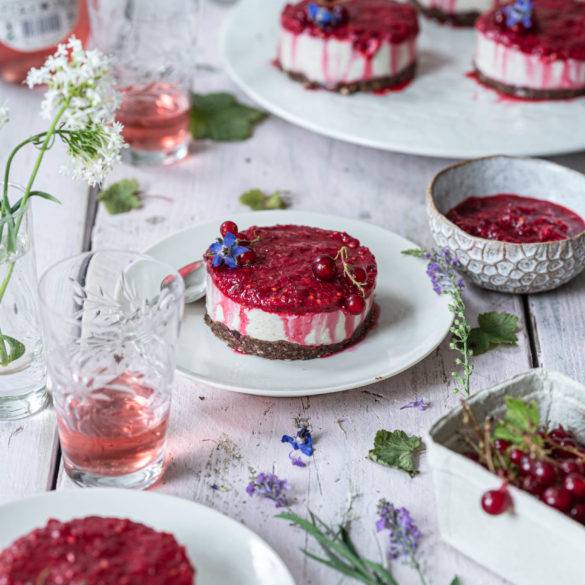 Ingredients
Topping

200g redcurrants

40g raw unrefined cane sugar

½ lime, juice

Pinch of salt

Filling

5g Irish Moss

250ml filtered water

100g hemp hearts

100g almonds, blanched

75g xylitol

30g cacao butter

30g coconut oil

1tsp vanilla extract

½ lime juice

Pinch of salt

Base

100g dates, destoned

50g sultanas

50g coconut flakes

50g cacao nibs

50g pecans
Instructions
In a high-speed food processor mix together the dates, sultanas, coconut, cacao nibs and pecan until it forms a gelled consistency.
Place the tart shells on top of acetate paper on a baking tray. Cut the acetate paper so that it can go round the edge of the tart shells. If you don't have tart shells, use a cake tin with a loose bottom – which line with parchment paper and parchment paper round the sides.
Use your hands and pat to form a cacao biscuit. Repeat with each tart shell. Refrigerate overnight.
Make the filling by soaking the Irish Moss in 150ml water and set aside overnight. Soak the almonds in the remaining 100ml water and set aside overnight too.
In a high-speed blender and blend the hemp, almonds and xylitol until fine. Add in the Irish Moss. Continue to blend.
Melt the cacao butter over a bain-marie (i.e. in a glass bowl over a saucepan full of water) until the butter melts. Pour into the blender with the hemp filling.
Add in the coconut oil, vanilla extract, juice and salt. Combine.
Transfer the filling into a large mixing bowl and then spoon the filling on top of the cacao biscuit. Place the cheesecake the freezer for at least a couple of hours.
Make the topping by whizzing together the redcurrants, sugar, lime juice and salt in a blender. Pour over the cheesecake. Return to the freezer for at least a couple of hours or until ready to serve.
When serving remove the acetate paper (you can reuse the acetate paper again) and serve on some dinky plates.