Get smouldering as your as your pleasure tool(s) start to rise…
Citrusy orange nicely balanced with tangy hints of rhubarb spatially littered across this moist gluten-free Rhubarb and Orange Cake. You'll be biting into mouthful upon mouthful of pure ecstasy.
Make this:
When you're got an afternoon tea party organised with the girls and you're wanting something to go very nicely with a cuppa
When you've got kiddies running round and round and they need a little quietening down for a moments while you catch your breath
When you're harking for some downtime and you just want to enjoy the suns rays with a little treat
Thank Marco Polo who's attributed to originally importing this Rhubarb to the Europeans.  Not sure where we'd be without this sour-tasting veg.
Tag me on @ethivegan to show me what you've made and let me know you're happy for me to share.
Love.
Edward x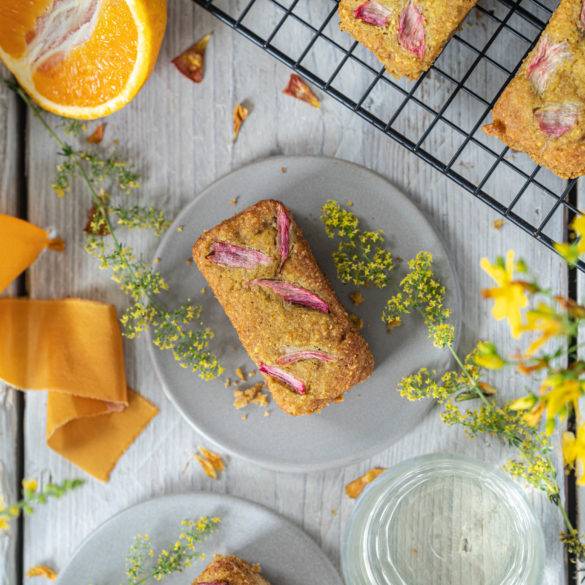 Ingredients
300g rhubarb

200g millet

100g polenta

40g flaxseeds

40g oats

60g tapioca flour

150g raw unrefined cane sugar

2 tsp baking soda

Pinch of salt

110ml olive oil

160g orange pulp

45ml filtered water
Instructions
Pre-heat the oven to 180 degrees Celsius or if a convection oven to 160 degrees Celsius.
Line a small loaf tins with oil.
Grind the millet finely in a high-speed blender and transfer to a mixing bowl.
Then grind the flaxseeds, oats, sugar and salt and mix into the millet. Add in the tapioca flour and baking powder.  Mix well with a spatula
Dice the rhubarb and toss into the mixing bowl. about 3 quarters of the rhubarb (about 225g). Give it a good stir.
Peel orange(s) and measure the flesh to 160g. Place in a high-speed blender. Add to the mixing bowl. Be careful not to over stir. You only need to mix it in. The ingredients will rise.
Transfer the batter to the cake tins.
Lightly cover the tins with aluminium foil for 25 minutes. Remove the foil and bake for a further 5 minutes, as the topping turns to a golden brown.
Test that the cake is baked through by using a skewer or knife. The cake is baked if it comes out clean.
Place the cake on a cooling surface and serve at room temperature. Keep in a sealed container as necessary.