Tart fleshy rhubarb sticks and caramelised toffee folded into creamy silken tofu; Rhubarb Burnt Sugar Mousse.
Wrestle with a luxurious taste sensation. And, let your lips quiver.
This dish will kerb any belief that vegan food can't be this super yummy.
Make this:
When you've got your nephew and niece visiting for the weekend. And, you need a lush dish that'll have some sweet but will have the goodness of rhubarb kicked in
When you fancy a sublime dish but that doesn't take much effort in rustling up. Melt into the sofa as you indulge
When your garden is bountiful with its own rhubarb. Harvesting your own is a bonus. And, you've run out of ideas
Rhubarb Burnt Sugar Mousse was inspired when experimenting with burnt sugar. I had wanted to create a contrasting taste the tangy rhubarb and ended up with this concoction.
This Mousse is vegan.
What equipment to use 
For this recipe, I suggest:
High speed blender
Oven
What to do next
Tag me on @ethiveganquantum on Instagram to show me what you've made and let me know you're happy for me to share.
My recipes are featured in vegan speciality publications: Nourished, Vegan Life, Plant Based and Vegan, Food and Living.
Order my first self-published book, "Essence: The Beginner's Guide to Veganism" part of the three-part Circle of Food series. My second book "Presence: The Ascending Vegan" – which explores how to maintain a vegan practice is out in 2027 – I have compiled all the chapters including recipes.
Going strong since 2013.
Love.
Edward x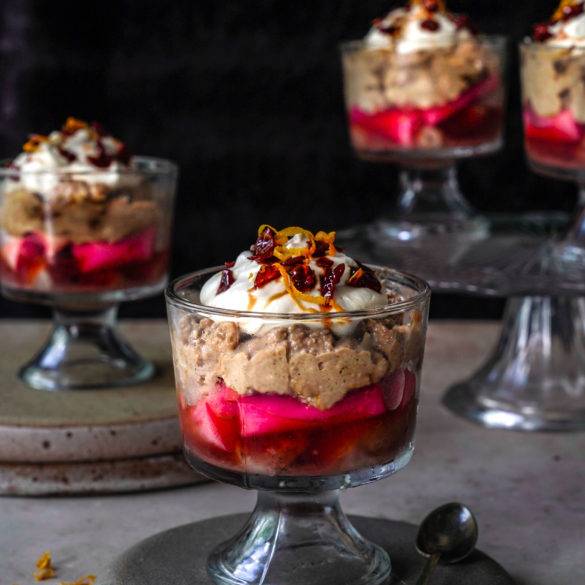 Ingredients
200g rhubarb

400g organic silken tofu

20g oats

100ml filtered water

100g unrefined cane sugar
Instructions
Pre-heat to 180 degrees Celsius or if a convection oven to 160 degrees Celsius.
In a baking tray line 1-inch rhubarb sticks. Make a sugar syrup by combining 25g sugar with the water. Pour over the rhubarb. Bake in the oven for 15 minutes.
In a high-speed blender whizz together the oats with the tofu. Transfer to a bowl.
In a saucepan over a medium heat, melt the sugar until it caramelises. Pour in the tofu. Switch off the heat. And, gently fold in. Don't mix in too much.
Lay the rhubarb and its juices at the base of any serving dishes. And pour the burnt sugar mousse.
Serve chilled.