Stuffed Courgettes with Apricots and Chia Seed came about when I discovered Piccolo Courgettes by pure chance years ago when and thought about combining them with chia seeds. I had a friend came over who needed cheering up and this dish did the trick – at least, I hope so. I love these Stuffed Courgettes with Apricots and Chia Seed because of the tantalising tastes that melt in the mouth.
What to do next
Tag me on @ethiveganquantum on Instagram to show me what you've made and let me know you're happy for me to share.
My recipes are featured in vegan speciality publications: Nourished, Vegan Life, Plant Based and Vegan, Food and Living.
Order my first self-published book, "Essence: The Beginner's Guide to Veganism" part of the three-part Circle of Food series. My second book "Presence: The Ascending Vegan" – which explores how to maintain a vegan practice is out in 2027 – I have compiled all the chapters including recipes.
Going strong since 2013.
Love.
Edward x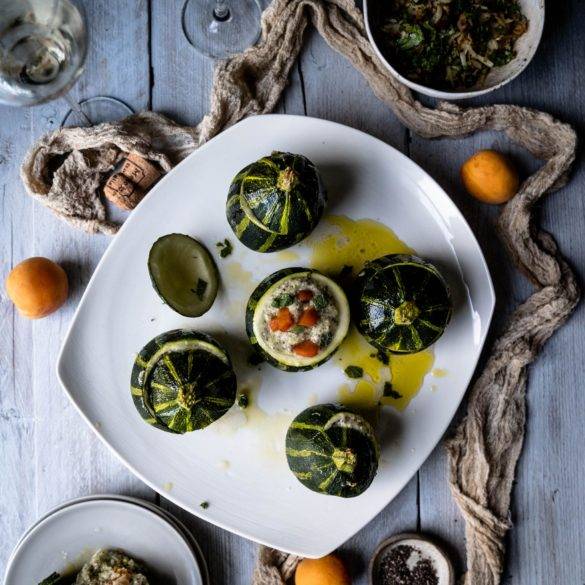 Ingredients
6 bell courgettes (Piccolo)
3tbs extra virgin olive oil (plus, oil for drizzling)
100g apricots, chopped
2 cloves of garlic, minced
few sprigs of mint, chopped
2tbs dried oregano
3tbs chia seeds
salt and pepper to taste
Instructions
Pre-heat oven to gas mark 180 degrees Celsius (or to 160 degrees Celsius if you have a fan oven).
Cut the top off of the courgettes and using a teaspoon, scoop out the flesh. Chop the flesh finally. Leave the bulbs to one side.
Place the courgette flesh into a blender. Whizz until fine and place in a large mixing bowl.
Add in the chia seeds, garlic, mint, oregano and chopped apricots. Mix well.
Use a tablespoon to scoop the mixture into the bulbs and cover with the tops. Drizzle over the oil.
Bake in the oven for about 30 minutes until the courgettes soften.
Serve warm.