Bring your tempestuous side to the fore. And, indulge.
Earthy succulent sweet potato with sweet caramelised onions infused with liquorice-like tarragon; Sweet Potato Caramelised Onion Soup.
This dish will topple your belief that vegan food can't be super nourishing.
Make this:
When you fancy a hearty soup as you surround your shoulders with a warm blanket
When you've just had a brisk walk in the blistering cold and need a bite to heat you up in no time
When you're rushed for time and need a light broth to set you on your way as you gear up for a big night out
Sweet Potato Caramelised Onion Soup was inspired when one stark cold evening, I needed a nourishing meal that'd keep me warm as I save my pennies on the heating bill.
Sweet potatoes have a low glycaemic index, good for those suffering from diabetes and others that monitor their blood sugar level.
Sweet Potato Caramelised Onion Soup is vegan and paleo.
Love.
Edward x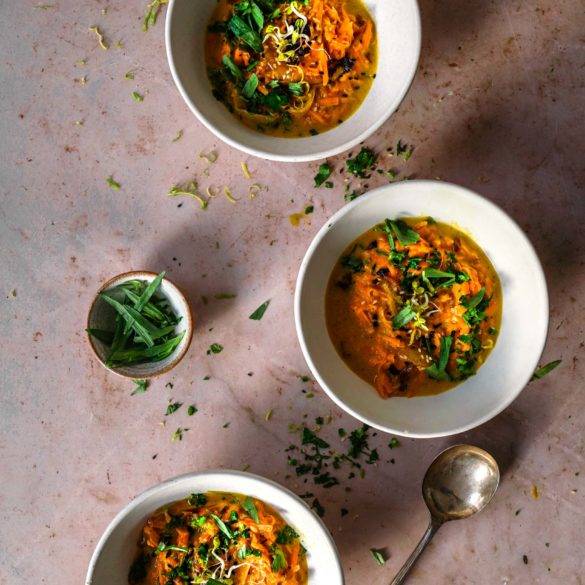 Ingredients
1 litre filtered water

200g mushrooms

4 onions, sliced

6tsb olive oil

1 sweet potato, grated

400ml coconut milk

Season to taste

Few sprigs of Tarragon
Instructions
In a saucepan, place the mushrooms in water and bring to the boil. Simmer for about 30 minutes. Drain and keep the stock. Discard the mushrooms.
In a large non-stick pan, add the coconut oil and onions. Saute the onions under a medium to low heat until they caramelise. Stir the pan at regular intervals for about 15 minutes.
Add the grated sweet potato, mushroom stock and coconut milk. Bring to the boil and simmer on a low heat for about 15 minutes.
Season to taste. Garnish with tarragon.
Serve warm.