Ras Malai is one of my favourite traditional Indian dishes. This Vegan Ras Malai is a result of a number of experiments but a suitable alternative, nonetheless. It uses almonds instead of whey protein found in milk. This dish results in nut cream which can be used for cereals, just drunk on its own or in other recipes.  What I love about this dish is that it makes a great round off.
Blanched almonds and pistachio nuts, I purchase from a nifty Asian outlet in Hayes.  It has an online presence too which can be found here – I love it because it is reasonably priced and tends to be good quality stuff which I use.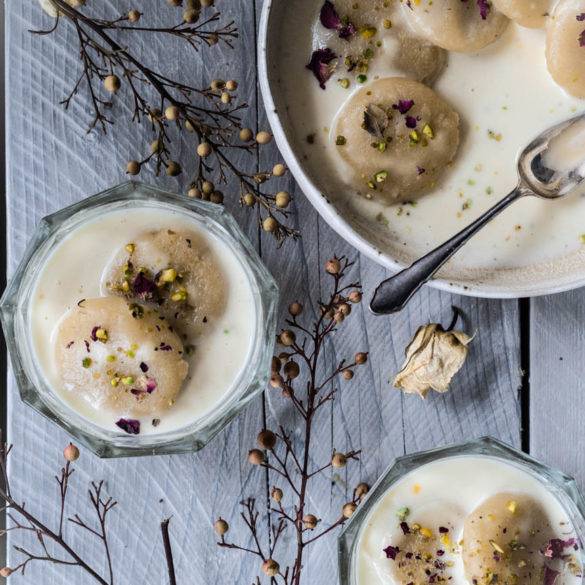 Ingredients
50g raw unrefined cane sugar
200g almonds, blanched
500ml filtered water
150g coconut milk powder
25g coconut flour
400ml coconut milk
100g raw unrefined sugar
3 cardamon pods
1tsp rose water
3 or 4 saffron threads.
Garnishing
Pistachio nuts, chopped
Rose petals
Instructions
In a high-speed processor finely grind the sugar and set aside in a large mixing bowl.
Blitz the almonds in water into a high-speed processor until fine and creamy.
Put the almonds through a nut bag. Keep the pulp and add to the mixing bowl.  Use the nut cream for your own use.
To the bowl, add the coconut milk powder and flour. Mix with a spatula.
Ensuring your hands are dry, using a tablespoon, scoop out some of the Ras mixture, and roll into a ball. Pat the Ras into a disc and place onto a dehydration tray.
Top tip – have a bowl of lukewarm water to the side – did your hands into to ensure hands don't get sticky. Dry with a dish cloth before working the ball.
Dehydrate the Ras discs for about 4 hours, turn over each side. Set to one side in the fridge.
To make the Malia, grind the seeds of the cardamon pods.
In a sauce pan, pour in the coconut milk. Add in the sugar, cardamon seeds, rose water and saffron threads. Bring to the boil. Turn off the heat. Pour into a serving dish.
When ready to serve add the Ras to the Malia - the Ras is delicate.