Vegan Mayonnaise I love because of its simplicity. I rustle up this mayonnaise to go with salads and even chips. I prefer this raw version to shop brought and it keeps in the fridge.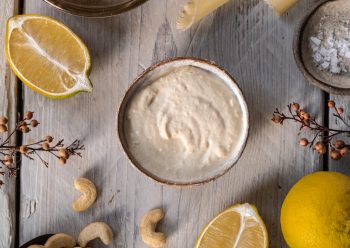 Ingredients
100g cashews
75ml water
1tbs lemon juice
2tsb olive oil
½tsp salt
Instructions
Soak the cashews in filtered water for about an hour. Set to one side.
Drain the cashews and place with 75ml water, lemon juice, oil and salt in a high-speed blender.
Place the mayonnaise in sterilised jar and use as needed in the fridge. Keep for upto two weeks (though it will still continue to ferment).
Notes
By Edward Daniel, Vegan Chef and Former Chair of The Vegan Society. Contributor to Vegan Life Magazine, Plant Based Magazine, Vegan Food and Living Magazine and OK! Magazine. Speaker and cooking demonstrator at Vegan Life Life Festival London, Mind Body and Spirit Festival London, Veganes Sommerfest Berlin, and Bali Vegan Festival. Author of "Essence: The Beginner's Guide to Veganism".