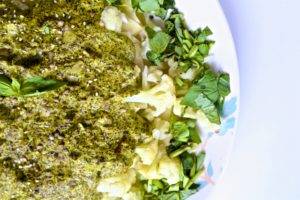 Wholefood Turmeric Sesame and Hemp Seed Cream - #Vegan #Nooil
Wholefood Turmeric Sesame and Hemp Seed Cream came about because I wanted something simple to go with some pasta, basil and cauliflower I had. I wanted to create a cream that complemented these sides. The texture turned out to be creamy and slightly nutty in flavour
Ingredients
250ml oat milk
100g hemp seeds
50g sesame seeds
2 tbs filtered water
4 shallots
1 inch fresh turmeric
Instructions
Whisk the oat milk and seeds in a blender until it becomes a cream consistency. Leave to one side.
Grinder the turmeric in a grinder. Leave to one side
Sauté the shallots in water for a couple of minutes. Add the cream and turmeric and gently cook under a low heat for three or four minutes. Switch off the heat.
Serve with pasta.
____________________________________________________
EthiVegan by Edward Daniel
What future would you like to paint? What I say is that it is possible to lead a fulfilling life by going within, living in alignment, letting go of the past and thriving on a vegan diet.
If you want to uncover your purpose and live a more enriching life, why not purchase my book "Essence: The Beginner's Guide to Veganism"?
To order your copy of "Essence: The Beginner's Guide to Veganism" click here
Subscribe to my EthiVegan Youtube channel – click here
For more information about me, Meet the author – click
Thanks for viewing my recipes and interviews.
Love you all.
Edward x
Edward Daniel | Servant to Humanity | Second Wave | Chef | Digital Information and Media Solicitor | Author | Poet | Presenter | Former Chair, The Vegan Society