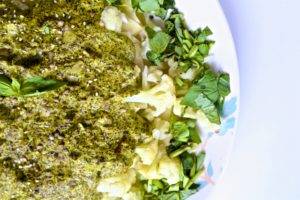 Wholefood Turmeric Sesame and Hemp Seed Cream - #Vegan #Nooil
Wholefood Turmeric Sesame and Hemp Seed Cream came about because I wanted something simple to go with some pasta, basil and cauliflower I had. I wanted to create a cream that complemented these sides. The texture turned out to be creamy and slightly nutty in flavour
Ingredients
250ml oat milk
100g hemp seeds
50g sesame seeds
2 tbs filtered water
4 shallots
1 inch fresh turmeric
Instructions
Whisk the oat milk and seeds in a blender until it becomes a cream consistency. Leave to one side.
Grinder the turmeric in a grinder. Leave to one side
Sauté the shallots in water for a couple of minutes. Add the cream and turmeric and gently cook under a low heat for three or four minutes. Switch off the heat.
Serve with pasta.
_____________________________________________________
EthiVegan by Edward Daniel
Thank you for taking the time to view my recipes, interviews and events pages.  I hope I inspire you to make these recipes and also inspire you to become very best versions of yourself.
You can follow me on Instagram here (@ethivegan) where I have quick one minute update videos and for interviews and cooking demonstrations you can subscribe to my Youtube channel here.  You can watch live cooking demonstrations by subscribing to my Facebook profile here (@ethivegan).
For more information about me – click here
See you soon.
Love.
Edward x
Edward Daniel | Vegan Chef