This is a simple, easy to follow collection of modern vegan recipes conjured up from my trips to lands less well travelled.
Drawing inspiration from Mediterranean ingredients like delicious earthy artichokes; Persian burst pomegranate seeds; and Far East fruity nutty black rice. All these ingredients offer something unmatched, not found elsewhere.
This recipe book will guide you through ingredients you can easily substitute for dairy and meat, and show how protein can be effortlessly found in most plant-based ingredients.  And, you don't even need to travel far.
When I became vegan in 2013, it wasn't easy to find simple, delicious recipes to make. Nowadays, it's slightly different. However, although there's some amazing beginner recipe books around, I wanted to give the creative beginner something to work with.
Simple doesn't mean unstylish. Neither does newbie-friendly mean basic. Here, you'll find dishes easy to put together but absolute crowd pleasers too.
It's perfect for both meat eaters and veggies. The book's inclusive.
It's the beginner's guide to veganism (but for foodies too who want amazing food) and is cool if you're:
new to veganism
curious about introducing unfamiliar ingredients into your culinary repertoire
not vegan, but open to eating less meat if you can, as fulfilling delicious recipes
not vegan and hold parties for those that are and you want something that's grand for everybody
then this book is for you.
There's special recipes in the book inspired from:
gorgeous veggie curries Grandma made us as kids in rural Pakistan
street vendor dishes from my travels across Saharan Morocco
breakfast from Made, a Balinese chef I stayed with when travelling to archipelago Gili Meno (Indonesia)
sunset gazing on the cliff-edge in Santorini with quintessential charcoaled grilled meals
al fresco dining on cobbled streets pre-opera in Verona
foraging punnets of blackberries in the Cornish countryside
There's a whole array of mouth-watering recipes which means you keep on track on your journey to veganism, if that's the way you're going or if you're open to more plant-based food in your diet.
Here's a taster of some of my favourite recipes from the book:
For brekkie: Bali-inspired Black Rice & Coconut Pudding.  This cinnamon-infused crunchy nut rice, wrapped in swirls of creamed coconut that melt in your mouth is the best way to start the day
For entrees: biting into Succulent Grilled Aubergine with Sesame Seeds. Caramelised aubergines with citrusy lime and mild sweet tangy mirin rice wine topped with toasted sesame seeds – yummy
For mains: Oregano Zucchini Mushroom Cannelloni. Tubes of cannelloni stuffed with oregano-flavoured zucchini and mushrooms in a creamy tomato and citrusy orange sauce and
To top if off, for dessert: Stuffed Peaches with Marmalade. Sweet juicy peaches full of smoky blackstrap molasses and marmalade topped with balls of pistachios and sunflower seeds
I wrote this book to give you dishes that'll go down an absolute treat when the in-laws pop over but also to honour humans, animals with the respect they deserve. There's a spiritual side to the book too.
Living in alignment is something I am passionate about but also good food. Good food never disappoints.  And, this book is packed with some of my favourite recipes – a select few that'll wow your guests or to indulge on when you're on your todd.
I've also included a selection of poetry written from my time traveling the world experiencing the best cuisine.
Here's a testimonial by Steven Nicolaides, Editor of Lucuma Magazine:
Review by Steven Nicolaides, Editor of Lucuma Magazine "It's nice to see a book like this in a time where style over substance dominates most of books on the shelves. Essence by Edward Daniel (a former Chair of The Vegan Society) is very well written and covers many topics related to veganism that aren't even mentioned in other books. In addition it includes poetry, stories, emotional guidance and information the Fifth Dimension and Twin Flames".
I sign each copy with a little personal message, so nab your copy.
Please note that Edition 1 has a limited availability of only 500 copies. 

The price of the book is £17.50 for UK mainland (plus £3.95 P&P). ISBN 9781999789701
Please note that P&P for Europe is £8.50 and USA and worldwide is £12.50.
"Essence: The Beginner's Guide to Veganism" is part one of three of "The Circle of Food" Series.
Love.
Edward x
Renaissance: My Beloveds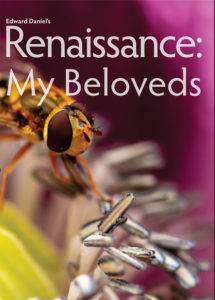 £25 for UK mainland (plus £3.95 P&P)
Add to Cart
The Beginner's Guide to Veganism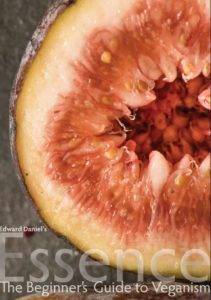 £17.50 for UK mainland (plus £3.95 P&P)
Add to Cart