Viscous fragrant nutty Almond Butter slathered and dry roasted and blended to release nourishing oils and opulent toasted intense flavours.
Get something steamy and slushy inside you. And, get into a tizzy.
This dish will distinguish any belief that vegan food can't be made with simple ingredients in your pantry
Make this:
When you're up for making a sultry chocolate sauce recipe with rich flavoursome almond butter to give it that extra decadence
When you've run out of brekkie ideas. On skillet toasted bread, pomegranates, strawberries and blueberries. Oh you are making me hungry
When you're out of fun ideas for vegan sandwiches. Look no further than a little of toasty butter
Almond Butter was inspired when creating a creating a decadent chocolate sauce recipe that used this butter. I had wanted my own home-made version of this butter. And, it really added some umph.
Almond Butter is vegan, paleo and a condiment.
What equipment to use 
For this recipe, I suggest:
High speed blender
What to do next
Tag me on @ethiveganquantum on Instagram to show me what you've made and let me know you're happy for me to share.
My recipes are featured in vegan speciality publications: Nourished, Vegan Life, Plant Based and Vegan, Food and Living.
Order my first self-published book, "Essence: The Beginner's Guide to Veganism" part of the three-part Circle of Food series. My second book "Presence: The Ascending Vegan" – which explores how to maintain a vegan practice is out in 2027 – I have compiled all the chapters including recipes.
Going strong since 2013.
Love.
Edward x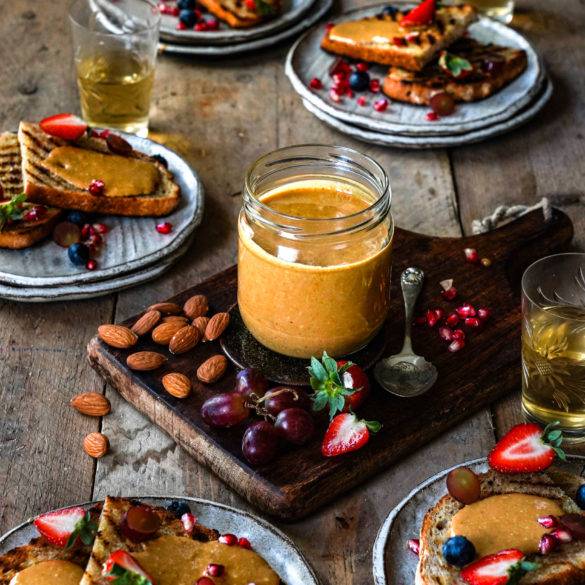 Ingredients
400g almonds

6tbs olive oil

Pinch of salt
Instructions
Blanch the almonds by soaking in boiling water for 10 minutes. Drain and soak in fresh boiling water for a further 10 minutes. Deskin and place in a colander.
Preheat oven to 180 degrees Celsius, or if a convection oven to 160 degrees Celsius.
Lay the almonds flat on a large baking tray. Cover with aluminium foil and bake in the oven for 40 minutes.
Place the almonds in a high-speed processor with olive oil and pinch of salt and churn at a low to medium speed for about 20 minutes.
Place the almond butter into a sterilised jar and serve as necessary.