Homespun understated sweet fragrant flavourful Candied Melon Peel slices slowly steeped in caramelised syrup.
Lure your loins to a new heightened frenzy. And, chill.
This dish will upheave any belief that vegan food can't be super easy to make.
Make this:
When you want your very own healthy homemade candied peel to lift your desserts and breakfast
When you've got a recipe crying out for candied peel and you need a fixer
When you've got a traditional panforte recipe that's bursting for its unique candied peel to take it to the next level
Candied Melon Peel was inspired when researching panforte, a Sienna cake. Melon peel is one of its main ingredients. Have only just published this recipe and have used it as an adornment to panna cotta.
This candied peel is vegan and paleo.
What equipment to use
 For this recipe, I suggest:
Stove
What to do next
Tag me on @ethiveganquantum on Instagram to show me what you've made and let me know you're happy for me to share.
My recipes are featured in vegan speciality publications: Nourished, Vegan Life, Plant Based and Vegan, Food and Living.
Order my first self-published book, "Essence: The Beginner's Guide to Veganism" part of the three-part Circle of Food series. My second book "Presence: The Ascending Vegan" – which explores how to maintain a vegan practice is out in 2027 – I have compiled all the chapters including recipes.
Going strong since 2013.
Love.
Edward x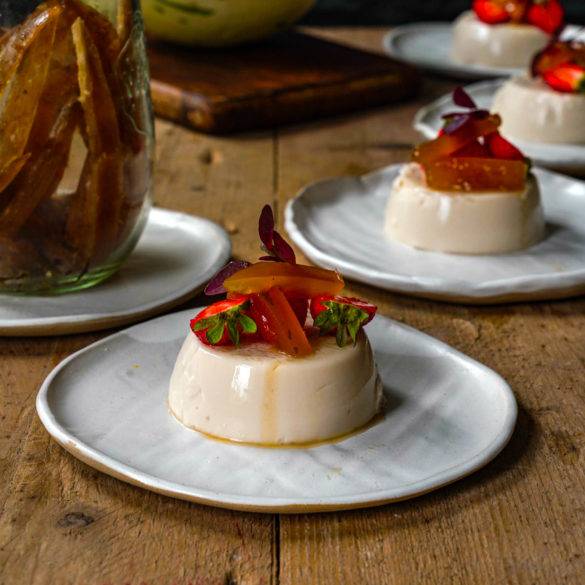 Ingredients
1 medium Matice melon (also known as snow ball or Gaya moelon)

For the syrup

500g unrefined cane sugar

750ml water
Instructions
Slice the melon removing the flesh and seeds, and leaving just the rind.
Make the syrup, in a large saucepan by dissolving the sugar with water. Bring to the boil. Switch off the heat and toss in the melon rind. Cover and stand overnight.
The following day, bring the syrup to boil and simmer for no more than 5 minutes. Switch off the heat. Cover and stand overnight.
Repeat this process for 7 days after which the melon rind should be soft and retain a golden-brown colour to it. Either dehydrate for 12 hours at 43 degrees Celsius until the rind becomes candy-like, or retain the rind in the syrup and use as needed.