Nutty pearl barley with fresh succulent garden peas, daikon radish infused with caraway seeds and topped with mint leaves; Pea Daikon Pearl Barley Salad.
Give into a temptation of heightened senses. And, tuck in.
This dish will burst your belief that vegan food can't be nourishing.
Make this:
When it's a nice summer's day. Imagine, you've picked fresh pea pods from the local farmer's market. And, then needing a fresh dish to liven you up
When its blistering hot outside. Nothing but a nice wee salad will do. And, as you enjoy the rest of your barbecue and drinks
When you're bathing out in the garden. And, then the thought comes. "Wouldn't it just be lush to have a little ole al fresco dining?". You have all you need. The fam is chirping away as you relax into the evening
Pea Daikon Pearl Barley Salad was inspired when I was over for lunch at an Italian friend's home. She had made a lovely pearl barley salad with aubergines, and butternut squash.  I just thought, wouldn't it be nice to try with peas and daikon, instead. Both of which are my favourites.
Daikon also known as winter radish and root vegetable that is grown commonly in Japan and Asian countries.  White in colour, it is mild in taste and known to assist in heartburn and indigestion.
This Salad is vegan.
What equipment to use 
For this recipe, I suggest:
Oven
Steamer
What to do next
Tag me on @ethiveganquantum on Instagram to show me what you've made and let me know you're happy for me to share.
My recipes are featured in vegan speciality publications: Nourished, Vegan Life, Plant Based and Vegan, Food and Living.
Order my first self-published book, "Essence: The Beginner's Guide to Veganism" part of the three-part Circle of Food series. My second book "Presence: The Ascending Vegan" – which explores how to maintain a vegan practice is out in 2027 – I have compiled all the chapters including recipes.
Going strong since 2013.
Love.
Edward x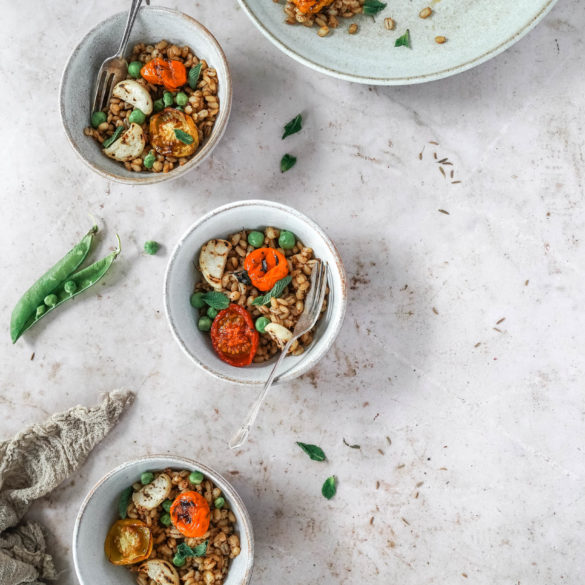 Ingredients
150g peas, fresh

1 daikon, diced

200g tomatoes

200g pearl barley

300ml filtered water

6tbs olive oil

1tbs cider vinegar

1tbs caraway seeds

½ tsp smoked paprika

Pinch of salt

Few sprigs of mint
Instructions
Pre-heat the oven to gas mark 180 degrees Celsius or if you have a fan oven 160 degrees Celsius.
Place tomatoes with 2tbs olive oil in a baking tray. Roast for 15 minutes and set to one side.
Steam the pearl barley in water for about 12 minutes. All to cool.
Dice the daikon and sauté in 2 tbs olive oil.
Use the excess liquid from the tomatoes and place into a large mixing bowl with the remaining oil, vinegar, seeds and paprika. Add in the pearl barley and daikon.
Toss in with the peas and tomatoes into the bowl.
Garnish with mint leaves.
Serve.