Wrap your tongue round something silky and smooth and let it gently slide down your throat. And, gobble up.
Fluffy nutty Quinoa gently simmered in almond cream with saffron strands, cardamon seeds, and Star anise to form a mouth-watering Porridge.
This dish will smash your beliefs that vegan food can't be fulfilling and nourishing.
Make this:
When you've got the kiddies noisily yapping away before school and need a brekkie dish that'll get their day onto a winner
When it's the weekend, and you're wanting to create a magical breakfast experience for your loved ones
When you're after a mid-night snack and raiding the kitchen wondering what's easy to make without too much effort
Quinoa Porridge was inspired one late night having returned from work and not fancying rice, nor oats and instead, creating a quick and hearty quinoa porridge was the only solution to be had.
It's vital to not overcook it, otherwise it become mushy, losing its texture and fluffiness.
Quinoa is grown extensively in Peru and Bolivia and was sacred and staple for the Incas; it was the mother of all grains with the Incan emperor ritually planting the first seeds each year.  It requires cool climate and short daylight hours for growth, and even growth at higher altitudes.
Blanched almonds and pistachio nuts, I purchase from a nifty Asian outlet in Hayes.  It has an online presence too which can be found here https://www.sirasonline.co.uk – I love it because it is reasonably priced and tends to be good quality stuff which I use.
Love.
Edward x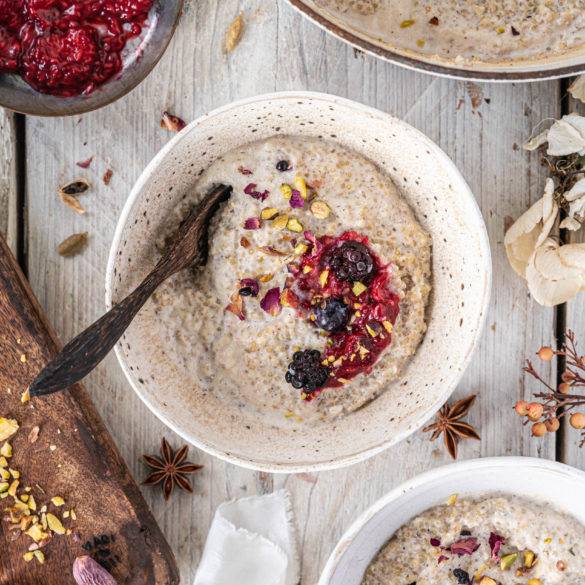 Ingredients
150g quinoa

100g blanched almonds

650ml filtered water

1 Star Anise

3 cardamon pods

6/8 saffron strands (optional)

50g raw unrefined cane sugar

Pinch of salt
Instructions
If you have unblanched almonds, blanch them in boil water and this will remove their skin, effortlessly.
Place almonds, with the water, Star Anise, cardamon seeds, saffron, sugar and salt in a high-speed blender and whizz until fine. Transfer to a large saucepan.
Add in the quinoa and gently simmer for about 15 minutes. Stir intermittedly.
As the quinoa starts to thicken, keep an eye on the porridge and stir continuously. It should become creamy. Taste to see if it retains a crunchiness to it still but with the quinoa, burst.
Switch off the heat. Cover and serve immediately.
Garnish with toppings or dish on its own.