Tangy citrusy Sea Buckthorn in a velvety creamy almond hemp filling with a mulberry pecan biscuit; Sea Buckthorn Cheesecake.
Salivate over something cream and tarty that will keep you dribbling for more…. And, plunge.
This dish will tear away any belief that vegan food can't super tasty.
Make this:
When you're rooting for a dish that's so exotic that'll get your friends hunting for sea buckthorns in the sand dunes
When you're staying by the sea, rummaged the coastal regions for sea buckthorn. And, to top it all, need a scummy dish with your foraged collection
When its blistering hot and sea buckthorn is aplenty and a dessert that will satiate your sweet tooth appetite
Sea Buckthorn Cheesecake was inspired when fumbling through brambles on the Cornish coast. After, a long trek and plenty of exercise, we had accumulated quite the bunch. On returning to a friend's farm, we rustled up a dessert to have round the camp fire.
Sea Buckthorn is fiery orange berry that grown on dense thickets with thorny branches found on coastal regions. The berries have inedible seeds that need to be removed before ingesting.
Sea Buckthorn is packed with Vitamin C and A. It grows in temperate harsh climates. For taste and best harvest between late summer to autumn.
Blanched almonds, I purchase from a nifty Asian outlet in Hayes.  It has an online presence too which can be found here https://www.sirasonline.co.uk. I love it because it is reasonably priced and tends to be good quality stuff which I use.
Sea Buckthorn Cheesecake is vegan, raw, paleo and gluten-free.
What to do next
Tag me on @ethiveganquantum on Instagram to show me what you've made and let me know you're happy for me to share.
My recipes are featured in vegan speciality publications: Nourished, Vegan Life, Plant Based and Vegan, Food and Living.
Order my first self-published book, "Essence: The Beginner's Guide to Veganism" part of the three-part Circle of Food series. My second book "Presence: The Ascending Vegan" – which explores how to maintain a vegan practice is out in 2027 – I have compiled all the chapters including recipes.
Going strong since 2013.
Love.
Edward x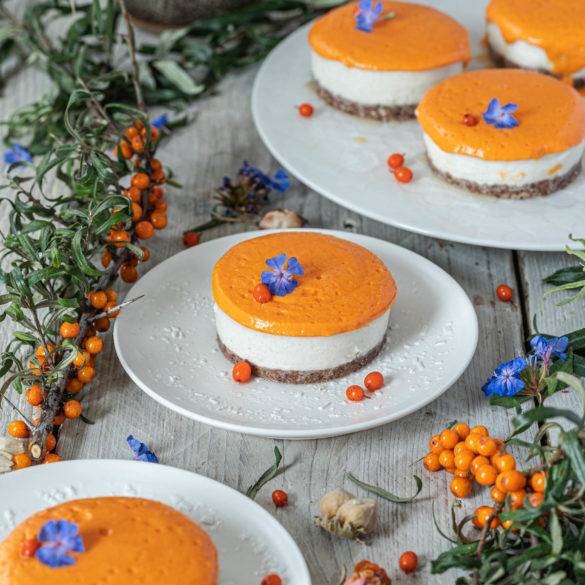 Ingredients
Topping

200g sea buckthorn pulp (deseeded)

75g raw unrefined cane sugar

50g sesame seeds

Pinch of salt

Filling

5g Irish Moss

250ml filtered water

100g hemp hearts

100g almonds, blanched

75g xylitol

60g cacao butter

1tsp vanilla extract

½ lime juice

Pinch of salt

For base

50g mulberries

85g currants

50g sesame seeds

50g coconut desiccated

50g pecans
Instructions
In a high-speed food processor mix together the mulberries, currants, sesame seeds, coconut, and pecan until it forms a gelled consistency.
Place the tart shells on top of acetate paper on a baking tray. Cut the acetate paper so that it can go round the edge of the tart shells. If you don't have tart shells, use a cake tin with a loose bottom – which line with parchment paper and parchment paper round the sides.
Use your hands and pat to form a biscuit. Repeat with each tart shell. Refrigerate overnight.
Make the filling by soaking the Irish Moss in 150ml water and set aside overnight. Soak the almonds in the remaining 100ml water and set aside overnight too.
In a high-speed blender and blend the hemp, almonds and xylitol until fine. Add in the Irish Moss. Continue to blend.
Melt the cacao butter over a bain-marie (i.e. in a glass bowl over a saucepan full of water) until the butter melts. Pour into the blender with the hemp filling.
Add in the vanilla extract, juice and salt. Combine.
Transfer the filling into a large mixing bowl and then spoon the filling on top of the biscuit. Place the cheesecake the freezer for at least a couple of hours.
Remove the seeds of the buckthorn by putting through a sieve.
In a high-speed blender whizz together the sea buckthorn, sugar and xanthan gum. Spoon over the cheesecake. Return to the freezer for at least a couple of hours or until ready to serve.
When serving remove the acetate paper (you can reuse the acetate paper again) and serve on some nice serving plates.