Cauliflower Tartare is one of those lush appetisers that is packed with flavour and really gets the palette going. I love this Cauliflower Tartare for its pure simplicity and elegance.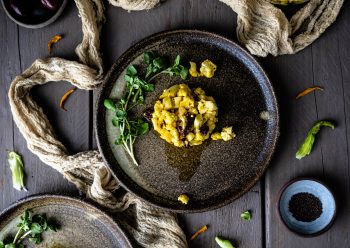 Ingredients
Medium Cauliflower head
2tbs olive oil
2tbs grape molasses
3tbs cider vinegar
1tsp turmeric powder
1tsp mustard seeds
50g olives, pitted
Instructions
Dice the cauliflower and place in a bowl.
In a separate bowl, make the marinade together the oil, molasses, vinegar, turmeric and mustard seeds.
Pit the olives and dice into smaller chunks.
Add the cauliflower and olives to the marinade. Leave to marinade for at least about 20 minutes.
Serve.