Taste sensational berry sharp strawberries tucked between layers of spongy coconut milk; Strawberry Chia Seed Pudding.
Get flush and tuck into something tangy and smooth.
This dish will burst your belief that vegan food can't be so simple to make.
Make this:
When you're going for a gym workout, and you need something nourishing for when you return
When you've got that get me back into bed look and need a tantalising taste sensation as you turn over reading the latest Telegram post
When you're lips are quivering and need something intoxicating to bring your "heat" down, but only momentarily, obviously
Strawberry Chia Seed Pudding was inspired when I had been going through my "get me fit stage, now!". It is quite the breakfast treat that starts the day for me. It is easy to put together. I love this Strawberry Chia Seed Pudding for its simplicity.
Strawberry Chia Seed Pudding is vegan and paleo.
What to do next
Tag me on @ethiveganquantum on Instagram to show me what you've made and let me know you're happy for me to share.
My recipes are featured in vegan speciality publications: Nourished, Vegan Life, Plant Based and Vegan, Food and Living.
Order my first self-published book, "Essence: The Beginner's Guide to Veganism" part of the three-part Circle of Food series. My second book "Presence: The Ascending Vegan" – which explores how to maintain a vegan practice is out in 2027 – I have compiled all the chapters including recipes.
Going strong since 2013.
Love.
Edward x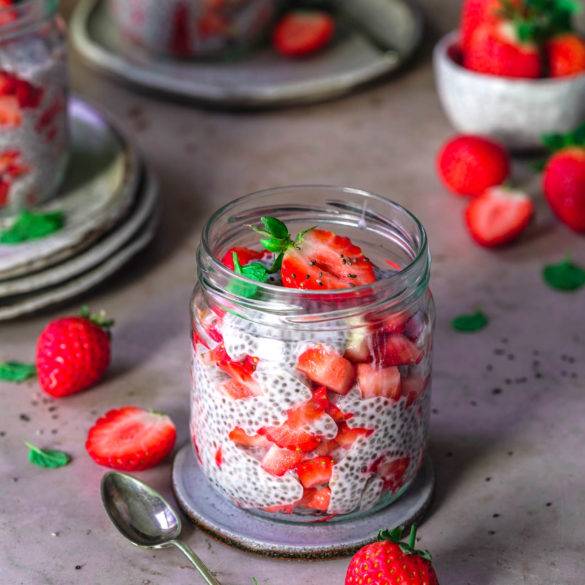 Ingredients
400g Strawberries

400ml coconut milk

50g Chia seeds
Instructions
Pour the coconut milk in a large bowl.
Toss in the Chia seeds and combine well. Set to one side for about an hour.
Roughly chop the strawberries.
Layer the Chia seeds and strawberries in layers in serving glasses and refrigerate until ready to serve.