Strawberry Chia Seed Pudding is quite the breakfast treat that starts the day for me. It is easy to put together. I love this Strawberry Chia Seed Pudding for its simplicity.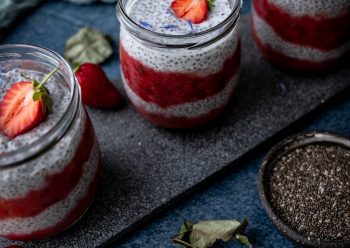 Ingredients
400g Strawberries
400ml coconut milk
50g Chia seeds
Instructions
Place the coconut milk in a large bowl.
Add the Chia seeds and combine well. Set to one side for about an hour.
Roughly chop the strawberries.
Layer the Chia seeds and strawberries in layers in serving glasses and refrigerate until ready to serve.
Notes
By Edward Daniel, Vegan Chef and Former Chair of The Vegan Society. Contributor to Vegan Life Magazine, Plant Based Magazine, Vegan Food and Living Magazine and OK! Magazine. Speaker and cooking demonstrator at Vegan Life Life Festival London, Mind Body and Spirit Festival London, Veganes Sommerfest Berlin, and Bali Vegan Festival. Author of "Essence: The Beginner's to Veganism" and "Renaissance: My Beloveds".