Cauliflower with kalamata olives marinaded in molasses, cider vinegar, turmeric and mustard seeds; Cauliflower Tartare.
Tantalising cauliflower that'll get you intoxicated for more. And, enjoy.
This dish will topple any beliefs that vegan food can't be simple to put together.
Make this:
When you're looking for a companion ingredient to go with your toast/bread that'll have you grabbing the jar for more
When you've just come back from playing tennis and need to grab a quick snack on the go
When you've had a long night and woke up with a hangover and need a dish that's not too complex to rustle up
Cauliflower Tartare was inspired when defying the mystery of climbing Snowdonia with a fellow hiker friend and running up and down the mountain and subsequently returning to our homestead to rustle up a wholesome dish to satiate our weary legs.
Tartare has its origin from the Tartars of Tartaria that would tenderise their produce while riding the saddle through rough terrains. A tartare is small tender sweet cuts of raw vegetable.  Cauliflower Tartare is one of those lush appetisers packed with flavour and gets the palette going. It's pure simplicity and elegance.
Cauliflower Tartare is vegan, paleo and raw.
What to do next
Tag me on @ethiveganquantum on Instagram to show me what you've made and let me know you're happy for me to share.
My recipes are featured in vegan speciality publications: Nourished, Vegan Life, Plant Based and Vegan, Food and Living.
Order my first self-published book, "Essence: The Beginner's Guide to Veganism" part of the three-part Circle of Food series. My second book "Presence: The Ascending Vegan" – which explores how to maintain a vegan practice is out in 2027 – I have compiled all the chapters including recipes.
Going strong since 2013.
Love.
Edward x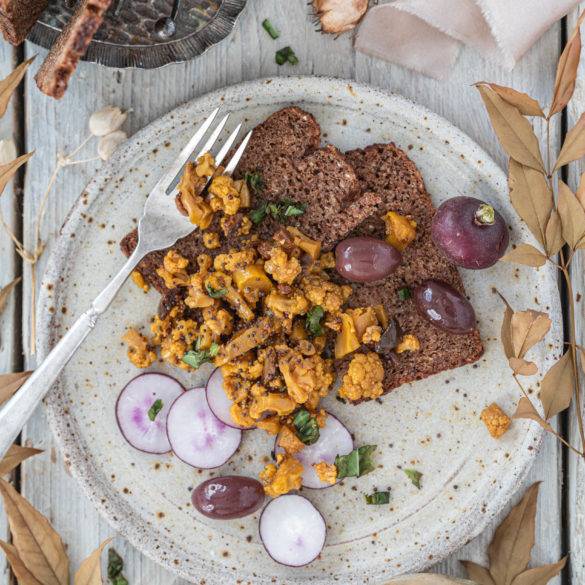 Ingredients
Medium Cauliflower head

2tbs olive oil

2tbs grape molasses

3tbs cider vinegar

1tsp turmeric powder

1tsp mustard seeds

50g Kalamata olives, pitted
Instructions
Cut the cauliflower into small pieces and place in a bowl.
In a separate bowl, make the marinade together the oil, molasses, vinegar, turmeric and mustard seeds.
Pit the olives and dice into smaller chunks.
Add the cauliflower and olives to the marinade. Leave to marinade for at least a day.
Place in sterilised jars, serve and chill, as necessary.