I first made this dish for a friend who came over for dinner and during a time when I was on a diet. This is a dish you can savour.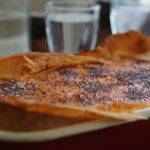 Ingredients
250g shallots
3 tbs walnut oil
400g organic tofu
200g cavolo nero, chopped
400g chopped chestnuts, cooked
few sprigs of coriander
salt and pepper
Yufka turkish pastry leaves
Coconut oil for basting
50ml almond milk
50g poppy seeds
Instructions
Pre-heat oven to 180 degrees.
In a large non-stick saucepan, fry the shallots in the walnut oil until the shallots are translucent.
Whizz the tofu in its juices in a blender.
Top tip ¬- most shops sell tofu in 400g packets and it is good to keep the juice the tofu is kept in, when liquidising it.
In a large bowl place the chestnuts, cavolo nero, cooked shallots, fresh coriander and tofu.
Season to taste.
Line a deep oval dish with coconut oil and place the first layer of the pastry leaves. Add a thin layer of the tofu chestnut mixture.
After three layers of the leaves, add 25ml milk to the top of the pastry and then alternating with the mixture add the pastry leaves ending with the pastry leaves.
Baste the leaves with the butter. Fold over the remaining pastry leaves round the edges and baste again. Add the remaining almond milk to the top.
Place the pie in the oven for 25 minutes.
Switch off the oven. Garnish with poppy seeds.
Serve with salad.
Notes
By Edward Daniel, Vegan Chef and Former Chair of The Vegan Society. Contributor to Vegan Life Magazine, Plant Based Magazine, Vegan Food and Living Magazine and OK! Magazine. Speaker and cooking demonstrator at Vegan Life Life Festival London, Mind Body and Spirit Festival London, Veganes Sommerfest Berlin, and Bali Vegan Festival. Author of "Essence: The Beginner's Guide to Veganism".