Crunching into the pomegranate and the pastry is what makes Pomegranate Oat Pie dish for me. I love the wholesome flavour of this combo.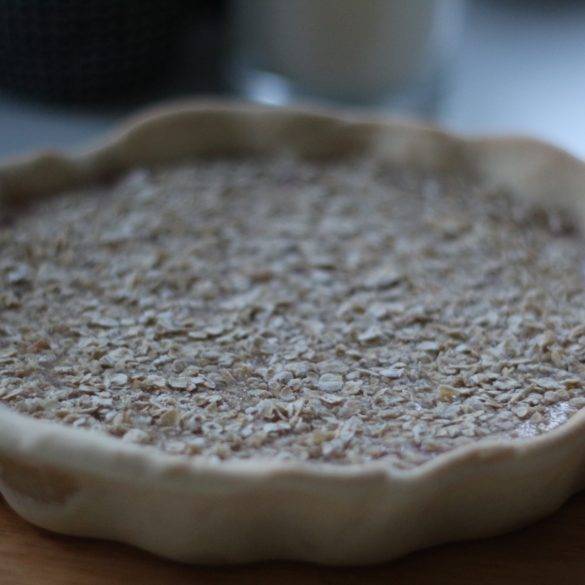 Ingredients
60g filtered water
140g "00" doppio flour
30g vegetable shortening
Pinch salt
500ml oat cream
50g oats
1 pomegranate, seeds
50g sugar
1tsp agar agar
100g tapioca flour
25g flaked oats for decorating
Instructions
Soak 50g oats in the oat cream overnight.
Pre-heat oven to gas mark 180 degrees Celsius.
In a saucepan place the oat cream, 50g oats, sugar, agar agar and tapioca and heat for 10 minutes. Set aside.
Place the flour, water and vegetable shortening into a mixer. Combine using a dough hook until well kneaded. This should be about 10 minutes.
Line a flat tray with vegetable shortening.
On a flat surface covered with flour, roll the dough into a circle, wide enough to cover the flan and over the edges of the flan tray. Line the dough in the flan tray.
Top tip – the dough will start to spring back during the baking process
Prick the dough with a fork all over the dough base. Cook the base for 5 minutes in the oven. Remove.
Add the pomegranates to the batter and gently fold onto the base. Smooth over. Sprinkle on the flaked oats.
Cook the pie in the oven for 30 minutes.
Serve warm or cold.