Peanut Butter and Blueberry Blasts
Cooking has always been one of my greatest passions. Last night was no different, with a bunch of friends over for dinner, I thought I would make these Blasts! This dish is gluten-free, though it can be used with regular plain flour instead, for those that are not coeliacs. Blueberries are rich in potent antioxidant pro-anthocyanins, which help limit free radical mediated injury. These Peanut Butter and Blueberry Blasts are an alternative to brownies and exceptionally scrumptious!
Recipe type:
Dessert, Snack
Cuisine:
Vegan, Vegetarian, Gluten Free
Ingredients
125g gluten free plain flour
1tsp gluten free baking powder
100g coconut oi
175g unrefined raw cane sugar
½ banana
1tbp vanilla extract
150g crunchy peanut butter
100g blueberries
20 x 20cm square cake tin
Instructions
Preheat the oven to 170 °C (325°F). Gas mark 3.
Butter sides of the cake tin and line base with greaseproof paper.
In a large bowl or mixer, cream the butter, sugar, banana and vanilla extract.
Add the peanut butter until combined.
Sift the flour and baking powder into a small bowl and add to above mixture, which will form a dough.
Turn off the mixer. Using a plastic spatula spoon in the blueberries.
Place the dough in the prepared tin and bake in the oven for about 30 minutes or until golden brown and slightly soft in the centre.
Use a knife around the side of the cake tin and allow to cool in the tin for 10 minutes.
Remove from the tin and serve up warm with nut cream.
_____________________________________________________
EthiVegan by Edward Daniel
Thank you for taking the time to view my recipes, interviews and events pages.  I hope I inspire you to make these recipes and also inspire you to become very best versions of yourself.
You can follow me on Instagram here (@ethivegan) where I have quick one minute update videos and for interviews and cooking demonstrations you can subscribe to my Youtube channel here.  You can watch live cooking demonstrations by subscribing to my Facebook profile here (@ethivegan).
For more information about me – click here
See you soon.
Love.
Edward x
Edward Daniel | Vegan Chef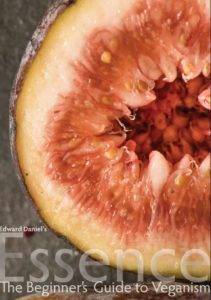 Related articles