Spongy moist burst Peanut Butter Blueberry Cake infused with citrus lemon and vanilla in a millet and rice confectionary.
Languish in ecstasy. And, come hither.
This dish will overthrow any belief that vegan food can't be scrumptious.
Make this:
When you feeling all fritzy and need some semblance of sanity as you bite into pure indulgence
When you've got that peanut butter late night hunger pangs and a sandwich just won't cut it
When you've got that blue feeling and need a little pick me to send you off into the clouds
Peanut Butter Blueberry Cake was inspired after a night frolicking with peanut butter pangs. To quench my illustrious desires, I made this cake to elevate me to new heights of fancy.
This Cake is vegan and gluten-free.
What equipment to use
For this recipe, I suggest:
High speed blender
Oven
What to do next
Tag me on @ethiveganquantum on Instagram to show me what you've made and let me know you're happy for me to share.
My recipes are featured in vegan speciality publications: Nourished, Vegan Life, Plant Based and Vegan, Food and Living.
Order my first self-published book, "Essence: The Beginner's Guide to Veganism" part of the three-part Circle of Food series. My second book "Presence: The Ascending Vegan" – which explores how to maintain a vegan practice is out in 2027 – I have compiled all the chapters including recipes.
Going strong since 2013.
Love.
Edward x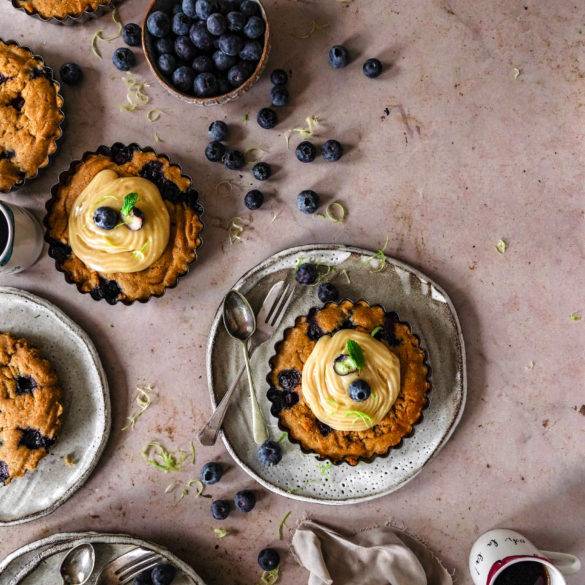 Ingredients
150g millet

150g white rice flour

40g flaxseeds

40g oats

60g tapioca flour

125g unrefined cane sugar

1tsp baking soda

Pinch of salt

150g peanut butter

75g olive oil

150ml filtered water

½ lemon, zest and juice

1tsp vanilla extract

125g blueberries
Instructions
Preheat the oven to 180 degrees Celsius or if a convection oven to 160 degrees Celsius.
Line cake tins with olive oil.
in a high-speed blender, blend the millet, flaxseeds, oats and sugar until fine. Transfer to a large mixing bowl with tapioca and baking soda. Use a spatula to combine.
Blend peanut butter, lemon juice, oil and water in a high-speed blender. Pour into the mixing bowl. Combine well with the lemon zest, vanilla extract and blueberries.
Place the dough in the prepared tin. Cover with aluminium foil and bake in the oven for about 35 minutes (after 25 minutes remove the foil) or until a skewer runs through dry. Remove and set to one side to cool.
Serve.