Papaya Strawberry Quinoa Salad with sweet paprika, citrus lemon juice, bitter parsley and umami coconut bacon.
Temper your loins and tuck in.
This is dish will obliterate your belief that vegan food can't this super delicious.
Make this:
When you fancy a bit of al fresco dining as you pop open the bubbly
When you've just had a dip in the sea and need a little light refreshment to go with the cocktail your bestie has just poured you
When you've got last minute friends popping over for supper and need a dish that'll wow them
Papaya Strawberry Quinoa Salad was inspired when I'd just visited the Indonesian subcontinent and had a craving for papaya. I wanted something light and fresh.  Sweet strawberries mesh with coconut bacon and nutty quinoa, with parsley adding a little bitterness. A perfect light Spring/Summer salad.
This Salad is vegan.
What equipment to use
For this recipe, I suggest:
Oven
Stove
What to do next
Tag me on @ethiveganquantum on Instagram to show me what you've made and let me know you're happy for me to share.
My recipes are featured in vegan speciality publications: Nourished, Vegan Life, Plant Based and Vegan, Food and Living.
Order my first self-published book, "Essence: The Beginner's Guide to Veganism" part of the three-part Circle of Food series. My second book "Presence: The Ascending Vegan" – which explores how to maintain a vegan practice is out in 2027 – I have compiled all the chapters including recipes.
Going strong since 2013.
Love.
Edward x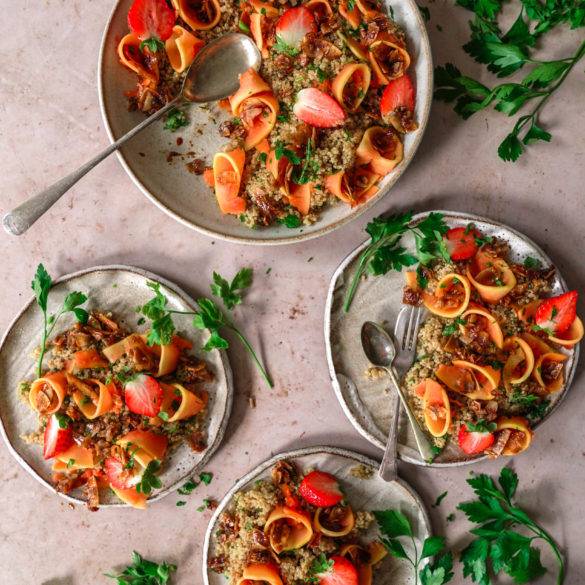 Ingredients
For the coconut bacon

50g coconut flakes

For marinade

1tbs olive oil

1tbs tamari

2tbs maple syrup

1/4tsp sweet paprika

Pinch of salt

200g quinoa

Few sprigs of parsley

250g papaya

100g strawberries

½ lemon juice

Season to taste
Instructions
Preheat oven to gas mark 180 degrees Celsius or if you have a fan oven 160 degrees Celsius.
In a bowl make the marinade for the coconut bacons by mixing together the oil, tamari, maple syrup, paprika and a pinch of salt. Toss in the coconut and coat with the marinade. Remove and place on a baking tray lined with baking paper. Bake in the oven for no more than 5 minutes. Set to one side.
Cook the quinoa by placing with water in a saucepan for about 20 minutes. Set to one side.
Cut or spiralise the papaya and cut the strawberries.
In a large mixing bowl, add the drained quinoa. Mix in the parsley.
As you are ready to serve, add in the papaya and strawberries. Coat with the lemon juice and season to taste. Toss in the coconut bacon and immediately serve.