Malty Pomegranate Broccoli Amaranth Salad with pungent red onion, mellow spring onions and tangy pomegranate.
Pucker your lips. And, take a bite.
This dish will topple your belief that vegan food is super scrummy.
Make this:
When you a swanky warming salad that'll tickle your fancy is much needed
When you're wanting an array of colour to quench your appetite as tuck into something gorgeous
When you've just had a heavy night on the town and need a calming salad to perk you up
Pomegranate Broccoli Amaranth Salad was inspired when I'd been experimenting with amaranth having discovered it is a protein-rich gluten-free ancient seed.
This Salad makes a great combination.  I love the graininess of the amaranth which melds with the crunch of the pomegranate and broccoli.  This salad is bursting with flavour.  Amaranth has a distinctive malty nutty flavour, once cooked.
This Salad is vegan and gluten-free.
What equipment to use
For this recipe, I suggest:
Pressure cooker
Stove
What to do next
Tag me on @ethiveganquantum on Instagram to show me what you've made and let me know you're happy for me to share.
My recipes are featured in vegan speciality publications: Nourished, Vegan Life, Plant Based and Vegan, Food and Living.
Order my first self-published book, "Essence: The Beginner's Guide to Veganism" part of the three-part Circle of Food series. My second book "Presence: The Ascending Vegan" – which explores how to maintain a vegan practice is out in 2027 – I have compiled all the chapters including recipes.
Going strong since 2013.
Love.
Edward x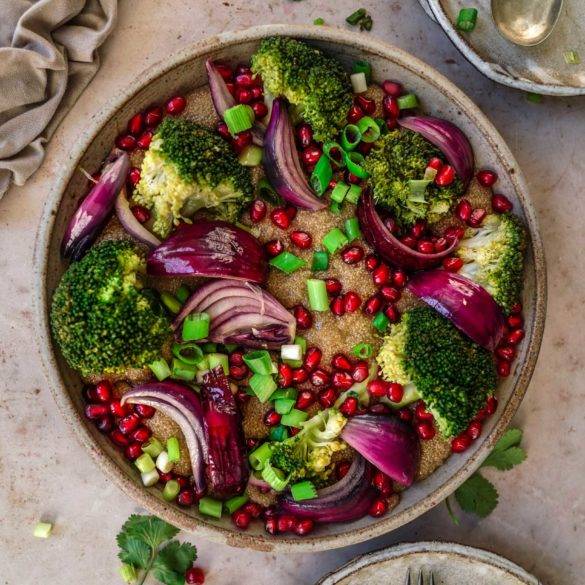 Ingredients
200g broccoli

500ml vegetable stock (made with filtered water – I use a potato and a celery stick)

200g Amaranth grains

1 red onion

1/2tsp salt

2tbs olive oil

Bunch of spring onions, chopped

1 pomegranate, deseeded

Season to taste
Instructions
Pressure cook the amaranth in the stock for 12 minutes. The cooked amaranth will separate from the water but mix together. Set to one side in a large serving dish.
Roughly chop the onion, transfer to a small mixing bowl with the salt. Leave sweat in the salt for about 30 minutes.
Lightly sauté the onion in oil for a couple of minutes and set to one side.
Toss in the broccoli, red onion, spring onion and pomegranate into the amaranth.
Serve.