Sage Pumpkin Pottage with broad and kidney beans, potatoes, celery, carrots, lemon grass, and lime.
Bite into indulgent stew. And, tuck in.
This dish will tumble your belief that vegan food is hearty and nourishing.
Make this:
When you've got friends over on a cold wintery day after a trek round the local park
When you've the hearth fire on and a nurturing meal that'll warm your toggles is just what the doctor ordered
When you fancy a whole meal in one that will satiate your hungry appetite
Sage Pumpkin Pottage was inspired at Halloween; I tuck into this Pottage with some grainy bread and olive oil. It is really filling.
This savoury dish is vegan.
What equipment to use
For this recipe, I suggest:
Pressure cooker
Stove
What to do next
Tag me on @ethiveganquantum on Instagram to show me what you've made and let me know you're happy for me to share.
My recipes are featured in vegan speciality publications: Nourished, Vegan Life, Plant Based and Vegan, Food and Living.
Order my first self-published book, "Essence: The Beginner's Guide to Veganism" part of the three-part Circle of Food series. My second book "Presence: The Ascending Vegan" – which explores how to maintain a vegan practice is out in 2027 – I have compiled all the chapters including recipes.
Going strong since 2013.
Love.
Edward x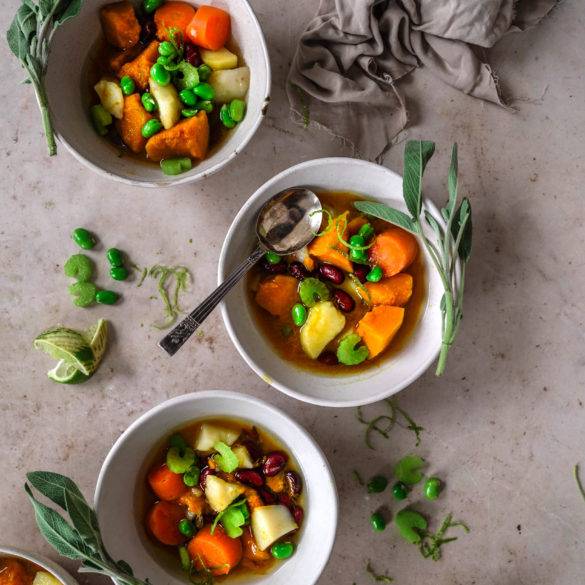 Ingredients
400g potatoes, roughly chopped

500g pumkin, roughly chopped

1.5 litres filtered water

1 stick of lemon grass

1 stick of celery, cut in two

2 carrots, sliced in rough chunks

1 lime, topped and tailed and sliced in three, leave skin on

½ bunch of sage, take the leaves off the stem

400g tin of kidney beans

400g tin of broad beans
Instructions
1. In a large saucepan, add the potatoes and pumpkin to the water and vegetable stock. Bring to the boil.
2. Add the celery, lemon grass, carrots, lime and sage. Reduce heat and simmer over a low heat for about an hour.
3. Add the beans and cook for a further 15 minutes.
Top tip – I do not particularly like beans in this dish to go mushy or overwhelm the taste of the vegetables, so that is why I prefer to add these towards the end.
4. Season too taste, take out the celery, lime and lemon grass and serve with chunks of grainy bread.