I was looking to make a sweet dish the other day but wanted to refrain from using sugar, even if it was unrefined and organic. For me, dates serve as an easy substitute – it is easily available.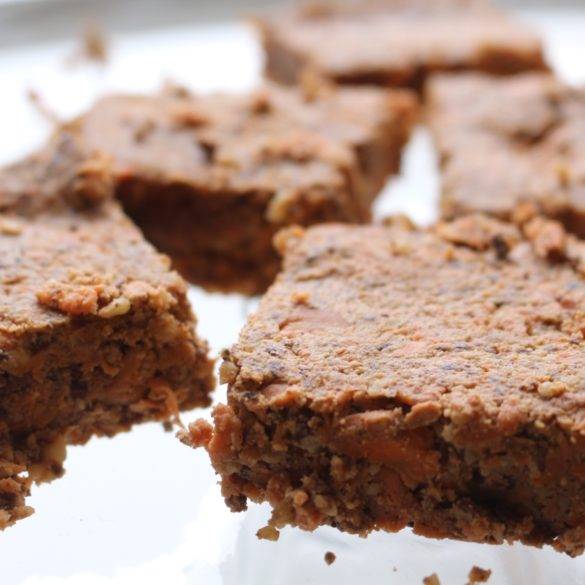 Ingredients
640g sweet potatoes
125g cocoa butter (or coconut oil)
150g dates
75g cocoa nibs
150g walnuts, finely chopped
Instructions
Peel the sweet potatoes. Place overnight in the freezer.
The following day, defrost the potatoes.
Once defrosted, the potatoes can be finely chopped in a food processor.
Finely ground the cocoa nibs.
Place the dates into a chopped and chop finely. Do the same thing with the walnuts.
Place all the ingredients into a large bowl and mix well.
Line a baking tray with coconut oil. Line with a piece of baking parchment. Pat the mixture into the bottom and sides of the tray.
Leave the bites to set in the fridge for a couple of hours.
Serve at room temperature.
Notes
By Edward Daniel, Vegan Chef and Former Chair of The Vegan Society. Contributor to Vegan Life Magazine, Plant Based Magazine, Vegan Food and Living Magazine and OK! Magazine. Speaker and cooking demonstrator at Vegan Life Life Festival London, Mind Body and Spirit Festival London, Veganes Sommerfest Berlin, and Bali Vegan Festival. Author of "Essence: The Beginner's Guide to Veganism".